A peanut allergy, for me, is something I take more seriously than any other allergy. Each exposure to peanuts can cause a worse reaction and eventually lead to anaphylaxis. I learned this the hard way.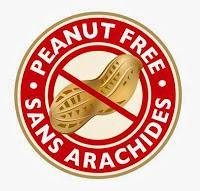 Because of this, I won't have a long list of ways to substitute peanuts, peanut oil, or peanut butter (coming tomorrow). I'll offer my suggestions but, ultimately, it will be up to you to protect yourself. My main advice for peanut allergies (or any other that causes you anaphylaxis) is "When in doubt, chicken out." 
Always carry an epi-pen if you are allergic to peanuts!
Or if you have ever reacted to peanuts. With any allergy that causes an anaphylaxis reaction, it's better to be safe than sorry (and in the ER and miserable for a week). It's just too risky for someone who is new to a peanut allergy, even if your first peanut reaction was mild (my first reaction was nothing like my last reaction! You can read about it here). 

Educate Yourself on Peanut Cross-Contamination
Before you go off exploring other foods, like nuts for example, I highly suggest that you do a lot of research on cross-contamination. This link has some great advice on avoiding cross-contamination in your home.
My advice for anyone who has a family member who experiences anaphylaxis as an allergic reaction is to not have the food in your home, at all. It is just too easy to cross-contaminate.
Read your labels!
If a label says "processed in a facility that also processes peanuts", "may contain peanuts", "may contain trace amounts of peanuts", or anything else to that effect, AVOID it. One time you may be fine, but the next time you could end up in the hospital, or trying out your epi-pen. 
What would a reaction to Peanuts be like?
Reactions can vary from person to person. Your reaction may be mild or severe. Here are some signs of an allergic reaction to look for:
Itching, this could be all over or just on the face

Flushing of the face (my face also felt hot)

Flushing of the skin on other parts of the body

Hot feeling skin

Rash

Tingling, numbness, or pain on the lips and/or tongue

Angioedema (swelling of the lips, tongue, eyes, throat, and/or face)

Hives

Cramps

Diarrhea

Nausea

Vomiting

Wheezing

Coughing

A barking cough

Anxiety

Distress

A sense of doom

A sense of "something isn't right"

Difficulty talking

Difficulty swallowing

Difficulty breathing

Drop in blood pressure

Rapid heartbeat

Dizziness

Loss of consciousness 
These are all signs of anaphylaxis which is a serious, life-threatening reaction.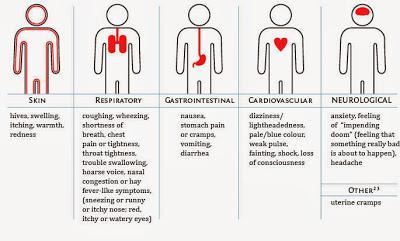 Should I worry about Peanuts in medication?
YES! Some medications include an ingredient called ARACHIS OIL which is PEANUT OIL. Here is the list I found from this link, of medications that contain arachis oil.
Cerumol (for removing ear wax) 

Siopel barrier cream

zinc and castor oil ointment

Calamine oily lotion

Dermovate (a potent topical steroid cream used for difficult eczema)

Naseptin cream

Abidec multivitamin drops

Isotretinoin capsules (for treating acne)

Sustanon (a testosterone injection)

Calogen (a high fat calorie supplement)
Other names for Peanut
Peanuts are also known by other names. Learn these names and keep a list with you so you will know what to look for.
Arachis oil

Beer nuts

Goobers

Goober nuts

Goober Peas

Kernels

Nu-nuts

Mandelonas

Monkey nuts

Nut Meat

Valencia
Tomorrow I will add the list of foods that contain/ may contain peanuts but, I felt I needed to post this information (about medication and names) with the information post since many people aren't aware that peanuts have several different names and can be found in medications.
Helpful Peanut Allergy Links
I wanted to end this post with helpful links on peanut allergies since I am not an expert... I'm just passionate about allergies! Even as passionate as I am about allergies, peanut allergies scare me. I wanted to make sure you all have the best links I could find to educate you. Here are the best links I could find, in no particular order. Some of them are written with parents in mind but they are all very helpful.
Peanut Aware has a handbook you can order on peanut allergies. I get nothing if you order it, but it is a good place to start.
Food Allergy Research and Education (FARE) website has a lot of helpful information about peanuts and tree nuts.
Health Canada has a great pamphlet (8 pages long) in PDF form that explains peanut allergies and answers some frequently asked questions about peanut allergies.