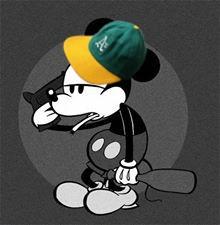 The All Star Break is long and punitive to someone like me. The All Star game itself was a snooze fest (I was bored by the 5th) and the home run derby was was like watching paint dry; but with people sitting on couches, giving inane interviews and then slapping each other on the ass at different intervals. (Sponsored by T-Mobile)
I loved the All Star game as a kid but let's face it– baseball players just aren't all that interesting as humans. I love your athletic prowess dude; but don't really give a shit about/have time for a Crash Davis inspired buddy-buddy interview with Jack Buck and John Smoltz leaving everyone uninspired with their deadpan deliveries. It's like talking to your dad about safe sex while mowing the lawn.
After all the sickening schmaltz and corporate fuck-fest is over the reality of a pennant race kicks in.
I usually listen/watch games while typing and straightening my tie at work. I've got withdrawals that give me flu-like symptoms, anxiety, depression and restlessness. I need to drink a lot of water because there seems to be a thirst I can't quench. I have to feign interest in Netflix shows or dating sites in order to chat with my co-workers around the water cooler. This seems to be an ample time-killer. Staring at a lap-top screen gives you headaches after awhile. My boss saw me dragging the other day and told me this: "the calm lake is a mirror."
Did I mention staring at a lap-top all day gives you headaches?