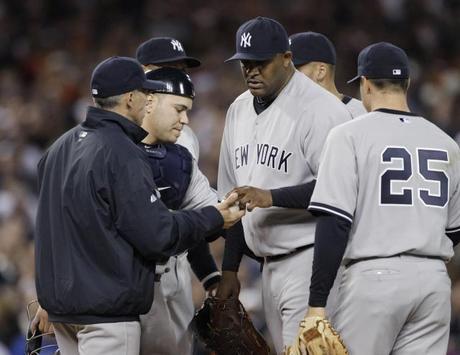 The baseball season is over.  The Red Birds won, the Red Sox drank, the Rangers and Rays impressed, Tony La Russa retired, and the Yankees…well, my opinion on the Yankees' season is much less clear-cut.   I had planned to write a big post-mortem, full of funny criticism, but after thinking about it, I realized that the Yankees actually impressed me this year, too.  Now, before I hear howls from Red Sox Nation and company, let me explain.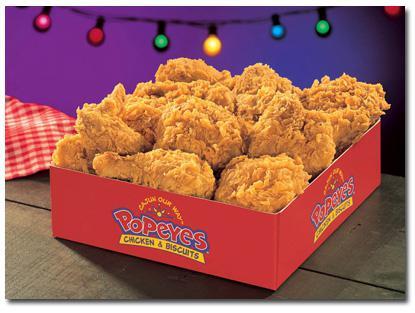 Back in February, I was so concerned about the age of our team and our pitching staff, I never considered the Yankees to be a real contender for the World Series.  In Joe Girardi's Braces, I skeptically trusted.  Don't get me wrong – the Yankees, with our ridiculous payroll, are always capable of winning the championship, and we are usually disappointed when we come up short.  But not this season.  Going into spring training, all we heard about was how dominant the Red Sox would be, and I bought into it.  Other than Boston's toxic clubhouse, they had a superior rotation, a comparable bullpen, and for the first time in years, a killer lineup from top-to-bottom.  At the time, we couldn't have expected Carl Crawford to play so poorly, Youkalis and Pedroia to be injured, or Adrian Gonzalez to be such a Bible-beating asshole.  In my wildest fantasies (including even the most x-rated, fried-chicken-filled sex dreams), I couldn't have imagined how the AL East would unwind.  
I truly thought the Yankees would be chasing the Sox (and the wild card spot) all season.  I expected we would make the playoffs, I just didn't think we had the pitching to compete.  And as things stand right now, I still feel that way for next season.  But to channel the precious Tim Gunn, this was a "make it work" season.  And we fucking made it work.  CC, Fat Bart, and Freddy Garcia kept the ship from sinking; Ivan Nova blossomed into a front-end starter; Russell Martin toughed out injuries and provided great defense behind the plate; Robbie undoubtedly established himself as one of the best hitters in the game; the Baseball Jesus bounced back, as predicted, and not only made history, but produced when we needed it most; David Robertson seamlessly became our set-up man, after Rafael Soriano disappeared; the MoBot3000x, now 872 years old and still throwing one pitch, was unhittable, as usual; Jesus Montero came up and finally proved that he really can hit; Brett Gardner's sparkplug status flourished further; and Curtis Granderson became a genuine star in the Bronx.  I really can't complain.  We won the AL East and it wasn't even stressful.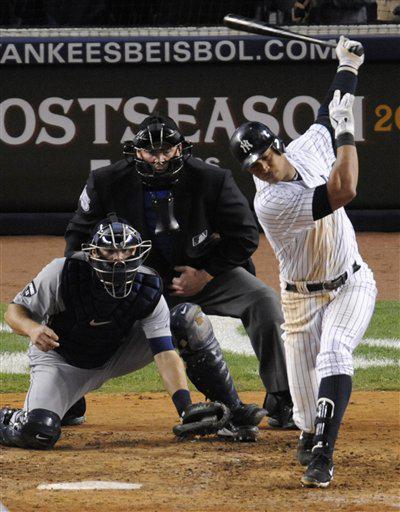 Yes, we still have the albatross that is ARod.  The Purple Lipped Princess is a shadow of his former self.  He has a shoddy hip, his knees are broken, and he is still a whiny bitch.  Thankfully, we only have about 26 years left on his contract.  Mark Teixeira did his best impression of Jason Giambi.  He is no longer a .300 doubles machine, but an all-or-nothing slugger with a ginormous ass.  Hopefully, he will soon employ a gold thong.  The Jorge drama in the beginning of the season was embarrassing – both for him and the team.  But I would sign him to a one-year deal, just like I would in Boston for Big Papi.  In the last two months of the season, Posada proved that he remains a threat off the bench.  He has veteran presence, his trademark fire, and he can still hit.  If he can accept his extremely limited role, I want him back.  I have never had much confidence in Nick Swisher and he didn't do anything this season to change my mind; I love his personality, I think he adds so much to our clubhouse, but his production wavers.  AJ Burnett still looks like an unpredictable serial killer and pitches like one, too – his fastball will either kill you on the outside corner or it will literally kill you, as he hits you in the head with it.  It is really anyone's best guess.
Undoubtedly, we have holes to fill.  We still need pitching, but I love the prospects in our farm system.  My two biggest concerns – resigning Cashman and extending CC – have already been taken care of, which gave me warm fuzzies as soon as it happened.  So overall? I can't help but think that the Yankees did a great job this season. 
At the moment, my biggest concern is that, with the baseball season over, what the f do I watch now?* Turning on the YES network after work and getting lost in baseball for hours every evening is basically my favorite thing to do.  And now we having nothing! The NBA is a total clusterfuck. Football can only entertain me on the weekends (and Monday night, if I prefer record-setting turnovers and botched snaps over Gossip Girl).  College basketball hasn't really heated up yet.  I mean, we are left with, what? Hockey? Only people from America's Hat still care about such a sport.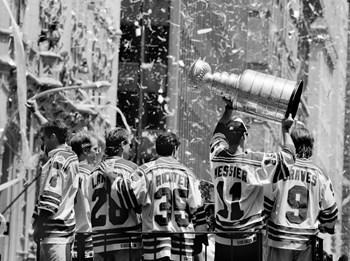 Having mentioned that, let's go off on a little tangent here.  I should probably confess that I used to be an obsessive New York Rangers' fan.   Growing up, from like third grade through seventh, my birthday present each March was tickets to see them play the Islanders.  I played roller and ice hockey, and I alternated between wanting to have Pavel Bure's babies and wanting to marry Adam Graves or Mike Richter (either would have been acceptable).  When I was in fifth grade, I watched the Rangers win the Stanley Cup and then slept in my Messier jersey, my lucky hockey cards spread out on the foot of my bed, much like a gesture of goodwill to any greater power that wanted to see the best ticker tape parade since 1940.  And then the strike happened.  For whatever reason, I never watched hockey again. I mean, I went to the occasional Hurricanes game during college and law school.  I cheered along with approximately 412 other fans.  But I never ever followed the sport again.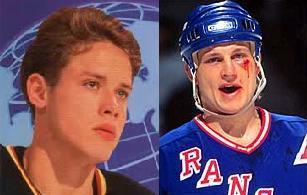 This is a mystery that perplexes me.  Were the Rangers – or hockey, in general – just a fad, a sports stage that I outgrew?  How did I rebound so quickly from the MLB strike, but I never recovered from the NHL lockout?  And how did the NHL botch the recovery so badly that they lost a die-hard fan like myself?  I think about this all of the time.   I joke around with my friends that I became a girl in sixth-grade.  Meaning, I was such a little tomboy up until that point.  In sixth-grade, I discovered boys and started wearing my hair in styles other than a ponytail and became attached to the phone.  It also coincides with exactly when I stopped playing hockey – and when I stopped following the sport.  I was just as big of a Rangers' fan as I was (and remain) a Yankees' fan; while I didn't break up with Bud Selig after 1994, Gary and I haven't been on speaking terms in over 15 years.  I eventually stopped playing basketball, and it had no effect on my enjoyment as a spectator.  I have never played football and I have always loved watching it.  So what the hell happened with hockey? It is such a fun, fast-paced sport to watch. And I have absolutely no desire at all to watch it.  
All I know is that spring training cannot come soon enough. And now that I am thinking about it, it is probably better that the Yankees didn't win this year anyway; when we win too often, we inevitably have to debate the salary cap. So I am pretty sure the 2011 season, while ultimately a failure, was planned and executed by the Ghost of George Steinbrenner. And I am cool with the way it turned out.  I miss you, Boss.  Almost as much as I miss baseball itself.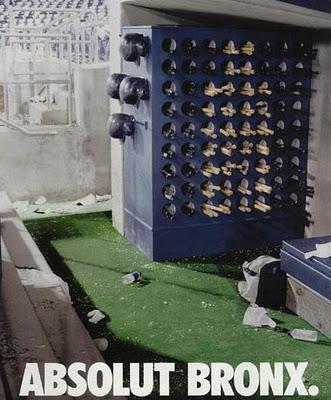 *The Good Wife, Amazing Race, Homeland, The Lying Game, Pretty Little Liars, Gossip Girl, Glee, 90210, Ringer, New Girl, Raising Hope, Top Chef, Work of Art, Hell's Kitchen, Survivor, Modern Family, Suburgatory, Revenge, Happy Endings, 30 Rock, Grey's Anatomy, Project Runway, Real Housewives of New York, Saturday Night Live, Desperate Housewives, Shameless, Weeds, Once Upon a Time, and United States of Tara. So I guess I'll find something to watch.
I apologize for the lack of posts this week, guys; it has been pure insanity in my office. But CDTF will be back in full next week, with lots of good stuff coming up. A Ball Four book club, Batting Practice Bitches with a partially new cast, predictions for the college basketball season, an update on why people hate Duke, color commentary on the Cubs, and lots more.  Please email me if you would like to get involved with CDTF.  Until then, have a great week and please check back tomorrow.