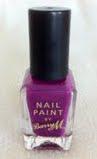 Barry M Nail Varnish in  Bright Purple
Nail varnish is the ultimate way to add a splash of color to a dull day and with the Great British summer being as illusive as ever nail varnish is in great demand. This is pure speculation of course; I have no idea if disappointing summer weather leads to an increase in sales of nail varnish. If the absence of a British summer is leaving you a little deflated and your happiness levels can be boosted by the purchase of a new nail varnish, head down to your local Superdrug and buy yourself some Barry M nail varnish.
Barry M, the Great British nail varnish comes in a vast range of shades. There are four different shades of yellow if you really are looking for a splash of sunshine. I went with Bright Purple for a fun vibrant feel. Barry M has fun, young and vibrant down to a tee but what about those of us who aren't so young anymore? Don't let the pocket money prices put you off because there are shades suitable for all ages and tastes and every age likes a bargain.
The nail varnish required two coats but I haven't yet come across a one-coat varnish. The consistency is good making it easy and fuss free to apply. Once on the nail polish has durability, giving a good three days wear before major chipping and this could be prolonged and extended to five days plus with touch ups. My one area of improvement would be for the brush to be a little thicker to make application quicker but that is only a very minor point and a personal preference.
At £2.99 Barry M nail varnish is an affordable treat that delivers long lasting results. Barry M nail varnish is a true bargain and true gem. A Great British brand far more reliable than the Great British weather!
Barry M Nail Varnish ReviewProduct:
Affordable, long lasting nail polish from Barry M
Longevity:
Once applied lasts for about 3 days and this can be prolonged with touch ups.
Affordable:
£2.99 – Absolute bargain!
Easy to use:
Good consistency means it is easy to apply
Availability:
Widely available from Boots, Superdrug and Barry M website
The Verdict:  8.5/10 Affordable, easy to apply and wear!