This week's Barn Burners I am debuting a few new songs that you likely haven't heard yet unless you had been scouring the internet over the last 24hrs.
The first one is from Tebey. Lightweight was released to Country Radio TODAY. And The smooth song is defiantly a great continuation for Tebey from his last single. Take a listen and let us know what you think.
TEBEY - LIGHTWEIGHT
Next up is a new single that was released to US Country Radio this morning. Pink Flamingos by Erik Dylan is a fun song. Erik is an absolutely amazing song writer from Kansas that we featured just over a year ago and its great to hear some new music from him. If you like it be sure to call up your local station and request it.
ERIK DYLAN - PINK FLAMINGOS
In the third spot this week it's Boots & Hearts Emerging Artist James Barker Band who is runnin' hot after his killer set at the big B&H pre-game party earlier this week. Lawn Chair Crazy is his debut single and would have to say its one hell of an introduction to the Canadian Country community. Crank this one up. And I am pretty sure you will be hearing this one cranked loud this summer across North America.
JAMES BARKER BAND - LAWN CHAIR LAZY
Till next week, keep them cranked!
Corey Kelly / @CoreyKelly76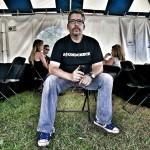 Born and raised in small ltown Ontario, Love me some Whisky & Country Music. Blogger, Photographer and Country Music Junkie.