So it's Friday the 13th and well this weeks Barn Burners are SCARY Good!
Let's start off with an absolutely killer cut by Ryan Beavers called Kristofferson. Really love the sound of music Ryan is putting out and his voice is solid. Have a listen and let us know what you think.
RYAN BEAVER - KRISTOFFERSON
Next on the list is a band I honestly don't know much about. The song landed in my inbox from a Nashville contact. And just something about this one. I loved the buzz of the harmonica and the absolutely brilliant voices of Charlie Muncaster & Gary Stanton they just totally nail it. Great tune and they have another solid cut that i may include in next weeks barn burners.
MUSCADINE BLOODLINE - SOUTHERN BOY CURE
The final one this week is a lil' firecracker from the Ottawa Valley boys The River Town Saints. Cherry Bomb is the boys 2nd single to radio and lets just say this one is all about party time. This one will have the ladies on the dance floor at all the Country Dance clubs this side of the Mason Dixon. Check it out for yourself and tell me you aren't tapping your toes or singing along by the final verse.
RIVER TOWN SAINTS - CHERRY BOMB
Keep'em cranked till next week.
Corey Kelly / @CoreyKelly76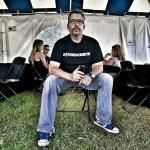 Born and raised in small ltown Ontario, Love me some Whisky & Country Music. Blogger, Photographer and Country Music Junkie.