Another week has come and gone and I have had a few new songs thrown my way this week a couple you may find familiar and a couple you will likely have never heard before.
Lets start with Canada's own Jess Moskaluke. This song dropped to radio last week and the video hit YouTube earlier this week. AND I LOVE IT. Take Me Home is a powerful song that will leave you wanting to listen again and again. Jess Moskaluke is one of Canada's bright futures in music and this song definitely helps pave the path to a long standing career.
JESS MOSKALUKE - TAKE ME HOME
Next up is a group of guys I had the opportunity to chat with this past summer when they played the Coors Kick off Party at Boots and Hearts you can see that interview here. But the fellas of Old Dominion have a new single that has stormed the charts in both the US and Canada. Snapback just has a really groovy sound and the catchy lyrics just seem to have me hit repeat on this one. Don't forget you can catch the boys this summer at Gone Country in London, ONT.
OLD DOMINION - SNAPBACK
How about a little Blake Shelton next...
Yup new music by Mr. Shelton, Co-Written by our very own Deric Ruttan. And this one is smooth... Here is Blake Shelton's new one Came Here to Forget. Don't miss Blake at Boots and Hearts and Cavendish this summer. And we know this will be on his set list for sure.
BLAKE SHELTON - CAME HERE TO FORGET
Last one is a guy we will see at a couple festivals in Ontario this summer with Jake Owen. I have had the pleasure of seeing this guy perform on a couple of occasions and let me tell ya he knows how to bring a party to the stage. I can recall a night last year at Casionrama when he brought up Matt Duchane of The Colorado Avalanche to play a couple licks on bass and the crowd was eating that up. His new single American Country Love Song is one of those cuts that I can hear being cranked running the old dirt roads this summer and releasing this one in March is perfect timing for that to happen, especially North of the border.
JAKE OWEN - AMERICAN COUNTRY LOVE SONG
Hope you dig these ones as much as I do. And if you have any suggestions I am always happy to hear them drop me a line here.
Corey Kelly / @CoreyKelly76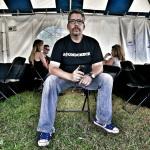 Well if your reading this you must really be bored... So I was born and raised in a small town and have a thirst for good Canadian Whiskey and amazing Country Music.