Last week was a bit hectic and I just didn't get a chance to put my Barn Burners together in time for friday. So this week I though I would add in an extra. So here are this weeks 4 songs I think are worthy of being on a Bar Burner list this week.
1st one was a late addition (this morning actually) it came into my inbox and after watching and listening just had to share. This has Country summer hit all over it. Check out Dan Davidson crank out his latests single Found.
Dan Davidson - FOUND
Lee Brice and Jerrod Niemann are great friends and this next cut they boys worked together to put out A Little More Love is one of those summer songs that you won't be able to get out of your head. Check it out. Also don't miss Lee at Lucknow Music In the Fields this August.
One of my personal favourites from this week is Dierks Bentley's BLACK. Not really sure I can say a whole lot about this one other than it is a great tune. And can't wait to see Dierks this summer at Boots & Hearts.
This week's BONUS video is a lyric video but it is a killer song by Meghan Patrick. Grace & Grit is Meghans second single and is a true Barn Burner. I have a feeling we might hear this one cranked on a lot of radios this summer.
Have a song you want to see make my Barn Burners. Be sure to send it my way!
Corey Kelly / @CoreyKelly76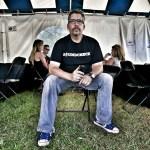 Born and raised in small ltown Ontario, Love me some Whisky & Country Music. Blogger, Photographer and Country Music Junkie.