This weeks Barn Burners wasn't easy. With so much new music hitting the shelves and your favourite online music store it was tough to pick my favourites that I have been listening to this week. This one might have a bit of a theme with the titles 2 out of 3 have Kiss in them. Let me know what you think and be sure to follow me over on Instagram.
CHRIS JANSON - HOLDIN' HER
From the fella that brought us one of the best sing-a-long songs last year in Buy Me A Boat. This time he turns the page and puts together one hell of a country song. This is my kinda Country... If you like what you hear head on over and pick it up HERE.
MICHAEL RAY - KISS A LITTLE MORE
Some of you already know that I am a big fan of this guy. After hearing him do a Mason Jar Session and hearing how amazing his voice is live compared to on the album. HUGE Fan and this guy and think is one should hit Country Radio in Canada.
DALLAS SMITH - ONE LITTLE KISS
This is brand spanking new. And Dallas has done it again. Great tune that might even play more to the US Market. Great production and Dallas's had a kick ass voice that fits this song perfectly. Crank it up! One Little Kiss.
Till next week keep'em cranked...
Corey Kelly / @CoreyKelly76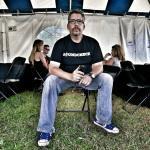 Born and raised in small ltown Ontario, Love me some Whisky & Country Music. Blogger, Photographer and Country Music Junkie.