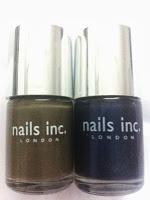 Hi everyone, thought I'd share a short post on my recent bargains! Within my local boots, they have a discount section with make-up and beauty items at the back of the store. I never normally browse these sections as I am glued to scanning the usual isles. I have only ever owned one of the Nails Inc polishes, and it was one I received as a sample in a bright red color. Since then I haven't had an urge to splash out on some more of these polishes, but I couldn't resist these as a bargain! I picked up these nail polishes for £1 each! (Bargain I know!)
The shade on the left is Fouberts Place - This mauve/brown color is perfect for the autumn season as an alternative for a nude nail. I love Models Own Utopia for a nude nail color. I have not tried a color similar to this, but I think it will become a favorite for me. I reckon two coats will give a perfect opaque finish and if your heavy handed a top coat also.
Karabet is the shade on the right, a deep blue with a slight shimmer. I love this shade, it is quite dark when first applied although I have given it two coats to improve the finish. This is my favorite of the two and I am chuffed I managed to pick them up for such a bargain!
So check out your local boots discount section!
Thanks for reading!

x