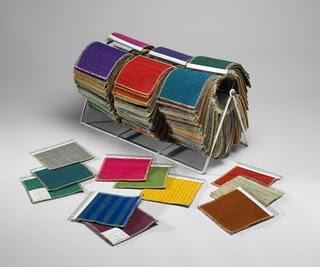 Knoll Fabric Wheel. Ca. 1965. Vinyl coated metal and textile swatches. Knoll Museum
The Bard Graduate Center (BGC) is known for their superbly curated decorative arts exhibitions but this time it has outdone itself. Last week I finally saw the very comprehensive (it takes up all of the gallery's four floors) and fascinating show "Knoll Textiles, 1945–2010" (through July 31), at the BGC on NY's Upper West Side.
As you know I have been sending out exhibition related events for this show for over a month now and that is because I feel that as a woman I ought to support a company like Knoll who, since its inception in the 1940's, actively hired female designers. The show focuses on four major themes: the formation, shaping, and dissemination of the brand over time; Knoll designers and the innovations in materials and methods of production associated with textiles from 1945 to 1965; the ways in which the textile division thrived in conjunction with the success of the Knoll Planning Unit from the 1940s through the 1960s; and finally, history of Knoll Textiles after Florence Knoll's retirement in 1965.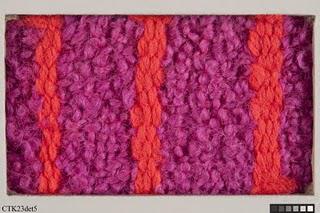 Evelyn Hill Anselevicius. Handwoven sample. Ca. 1952. Wool. Philadelphia Museum of Art, Gift of Mr. and Mrs. George Anselevicius.
Today the Knoll name is synonymous with the design of modern textiles and that is a major accomplishment of Florence Knoll's. Born Florence Schust, Ms. Knoll married Mr. (Hans) Knoll, who had come to NY from Germany to expand the family furniture business, in 1946. Florence was not some ingénue. She had graduated from Cranbrook Academy of Art and had studied architecture both at the Architectural Association in London and with Mies van der Rohe at the Illinois Institute of Technology in Chicago. She became the director of the company's Planning Unit, which was committed to planning complete interiors for large corporations. Being a progressive thinker, Knoll hired brilliant young designers, almost all of the women, to help her carry out her vision. Some of these include Marianne Strengell (the Finish designer studied with Florence at Cranbrook and was instrumental to the early development of textiles at the company, in fact, she designed the company's first textile!) , Shiela Hicks (herself a subject of a Bard exhibition not too long ago, she designed textiles for Knoll in the 1960's), Evelyn Hill (studied with Josef Albers and was responsible for experiments with natural and synthetic textiles, using silk, rayon, mohair, horsehair, and even plastic and fiberglass in her designs.), Anni Albers (no introduction needed, she worked with Knoll in the late 1950's and 1960's), and many others.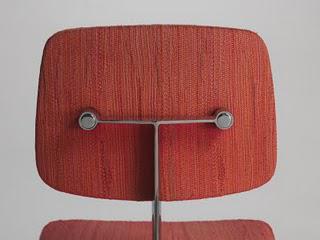 Marga Hielle Vatter (upholstery) and Max Pearson (chair). Detail, Dynamic upholstery on model 46 chair. Ca. 1973. Steel, aluminum, foam rubber, and wool upholstery. Private collection.
The exhibition is brimming with color full swatches of the hundreds of textiles (175 to be exact) that Knoll produced. Color and texture were both Knoll hallmarks and the textiles are in brilliant colors with bold patterns. My only complaint is that one is unable to touch any of the fabrics. Since texture is so important to Knoll, one wants to experience the show through sight and touch. Aside from the actual textiles, the show also features some great furniture, one example is the Model 71 armchair designed by Eero Saarinen and upholstered in Rugby (in this case a two-tone orange color way). Seeing the fabric used on such iconic furniture, which has come to represent the best of twentieth -century modern design, further establishes the importance of Knoll.
The textiles on view remind me of the some of the great Abstract Expressionist paintings. It is no wonder that clients high on the corporate ladder would have Knoll upholstery on their chairs and Mark Rothko hanging on their office walls.
Although Florence Knoll retired in 1965, she left the company in capable hand. To this day Knoll is considered to be at the fore front not just with their designs but also with their eco-friendly practices.
All images courtesy of the Bard Graduate Center. For more information visit the BGC website.