Webber fastest on Friday morning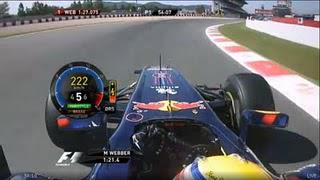 It is early days, but Red Bull
already look the team to beat in Barcelona
Friday morning saw a smooth practice session in dry weather conditions. Mark Webber set the fastest time, 1.007 seconds in front of teammate Sebastian Vettel.
The Circuit de Catalunya in Barcelona is the race track where most of the winter testing programme in February and March took place, therefore it is very familiar to the teams. Interestingly, Webber's fastest time on Friday morning was almost 5 seconds slower than Michael Schumacher's fastest time back in the final testing in March.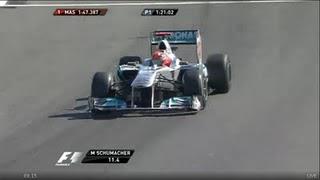 Michael Schumacher needs to up his game after his
poor start into the 2011 season
The oldest man in the field, seven time world champion Michael Schumacher, was also the most hardworking one on Friday morning, getting 32 laps under his belt.
Friday Practice 1 - final results
Pos.DriverNat.TeamTimeGapLaps
1Mark WebberAustralianRed Bull1:25.14227
2Sebastian VettelGermanRed Bull1:26.149+1.00720
3Nico RosbergGermanMercedes1:26.379+1.23729
4Fernando AlonsoSpanishFerrari1:26.480+1.33827
5Sergio PerezMexicanSauber1:26.738+1.59626
6Lewis HamiltonBritishMcLaren1:26.998+1.85619
7Michael SchumacherGermanMercedes1:27.016+1.87432
8Nick HeidfeldGermanLotus Renault1:27.132+1.99021
9Jenson ButtonBritishMcLaren1:27.138+1.99622
10Rubens BarrichelloBrazilianWilliams1:27.212+2.07020
11Vitaly PetrovRussianLotus Renault1:27.241+2.09922
12Daniel RicciardoAustrialianToro Rosso1:27.471+2.32923
13Pastor MaldonadoVenezuelanWilliams1:28.005+2.86311
14Nico H체lkenbergGermanForce India1:28.027+2.88526
15Adrian SutilGermanForce India1:28.163+3.02122
16Felipe MassaBrazilianFerrari1:28.654+3.51228
17Kamui KobayashiJapaneseSauber1:28.819+3.67723
18Jaime AlguersuariSpanishToro Rosso1:28.995+3.8539
19Heikki KovalainenFinnishTeam Lotus1:29.231+4.08921
20Jerome D'AmbrosioBelgianVirgin1:30.896+5.75418
21Timo GlockGermanVirgin1:31.235+6.09325
22Vitantonio LiuzziItalianHispania1:31.268+6.12623
23Jarno TrulliItalianTeam Lotus1:31.418+6.27612
24Narain KarthikeyanIndianHispania1:32.106+6.96425

Related Articles
And the Winner Is...

Hamilton or Button?

Estimated Pecking Order for 2011
You can have a look at the archive for a list of all articles