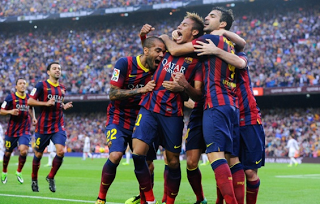 The first Clasico of La Liga has come at an incredibly interesting time of the season. With second placed Atletico Madrid the main underdog success story of La Liga and Zlatan Ibrahimovic conquering Europe's attention in the midweek, Barcelona and Real Madrid (along with Messi and Ronaldo) had a lot to prove in this upcoming Clasico. Barcelona have come out ahead in the Camp Nou with a 2-1 victory which featured fantastic performances from so many individual players.
As the first half began with a tentative and defensive Real Madrid keeping Messi away from the play, Barcelona continuously poked at the holes in the Madrid defence. It was Iniesta who eventually slipped Neymar a through ball which the Brazilian finished past Diego Lopez. Neymar's increasingly confident and dominating performance was in stark contrast with the world's most expensive player Gareth Bale, who just wasn't able to integrate himself into Real Madrid's play during their sparse moments of possession.
Real Madrid's reaction came about laboriously with extreme caution. Ancelotti was always certain to leave a few fellows behind for Messi who was kept fairly quiet on the right flank, leaving Iniesta, Neymar, and Fabregas plenty of space to combine and entertain. While Modric did his best to tighten up his side's possession when possible, the lack of Ozil's presence was incredibly apparent in the difficulty Real had knitting together the midfield and attack. Although Los Blancos eventually forced a tough save from Valdes when Ronaldo crossed to Khedira for stretched shot, the first half scoreline of 1-0 a rightful reflection of the Blaugrana superiority.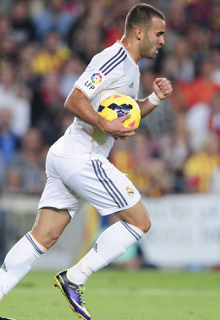 The proper reaction came from Real Madrid in the second half, with much more aggressive and attacking play. Ten minutes into the half Ancelotti decides to substitute already booked Sergio Ramos for Illarramendi, and the match opened itself up to an amazing display from both teams. Barcelona were always looking to punish Real with Neymar who woke Diego Lopez up with a powerful close range volley which the keeper parried away. Bale was taken off ten minutes later (an incredibly quiet performance from the world's most expensive player), replaced by Benzema while Gerardo Martino put in Alexis Sanchez for Fabregas towards the 70th. Just a couple of minutes later the Frenchman blasted the bottom the crossbar with a long range shot which seemed destined for the top corner.
As both sides continued to play with an intoxicating attacking vigour, the coaches fought their tactical battle: Ancelotti replacing Di Maria with Jese Rodriguez and Martino taking off Iniesta for Alexandre Song. It was the substitutes which began to dominate the game as Alexis Sanchez doubled Barcelona's lead with an exquisite long range chip. Both sides continued to attack, and Real Madrid finally got a deserved goal with Jese Rodriguez finishing past Valdes after being fed a fantastic assist from Cristiano Ronaldo in the 91st minute to make it 2-1 just at the end of the match.
This was a Clasico to remember with the best performances not just being Lionel Messi and Cristiano Ronaldo's, it was Neymar who left his mark on the game, scoring the first assisting Sanchez for the second. The Brazilian boy from Santos has integrated himself seamlessly into Barcelona's system, dismantling the Real defence and proving to be the true signing of the summer thus far in La Liga. Real Madrid's performance (especially in the second half) deserves definite praise, Ancelotti probably feeling fairly unlucky that Ronaldo wasn't given a penalty when he was bumped by last man Mascherano in the box. However it was Barcelona who claimed the three points of this pivotal clash, now six points ahead of Real Madrid and just four ahead of Atletico Madrid who have a game in hand tomorrow against Real Betis.

What were your thoughts on Barcelona's victory? Which player impressed you the most? Share your thoughts in the comments below!