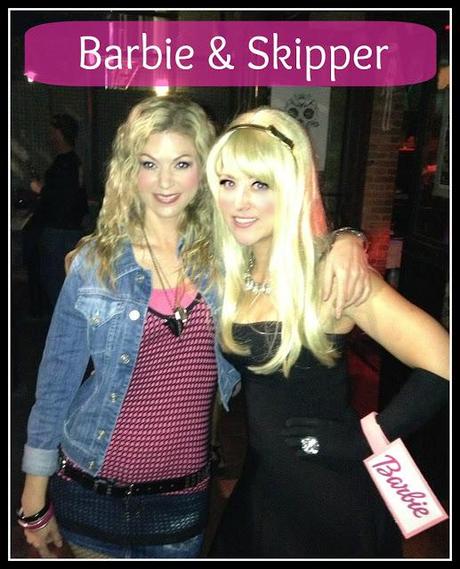 A few months back I made a trip to Savers in hopes to find the perfect costume.  My main objective this year was to find something inexpensive, comfortable and creative.  So, I tried on brides maid dresses, cocktail dresses and everything in between before I finally found "the one".  Well, really the "two".  These dresses couldn't have been more perfect and I knew that this was the year I was going to be Barbie.  I've wanted to dress up like Barbie since before I can remember.  I'm an avid Barbie collector and darn it I wanted a "pretty" costume.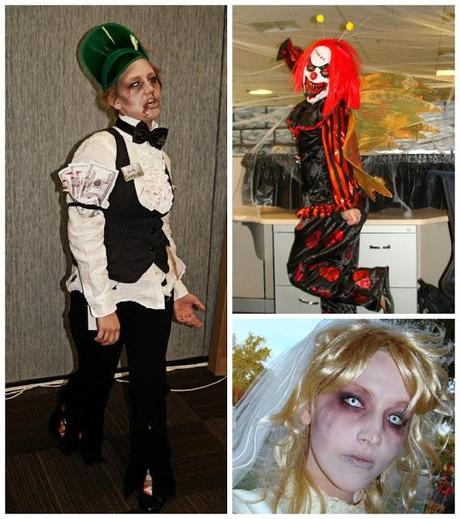 Not-so-pretty-me on Halloween
Anatomy of a
Barbie
Costume
Dress:  I found 2 black dresses at Savers around $12 each (one was floor length with feather detail - reminded me of a Holiday Barbie I had as a kid and the other was a strapless knee length dress - more on the retro side).  I bought both dresses because they fit like a glove and I figured I could re-use them in the future.
Accessories:  Blonde wig, costume jewelry (ring, bracelet and necklace), handmade Mattel purse, feather boa, handmade Barbie wrist tag, black gloves, eyelashes and endless amounts of makeup.
DIY Barbie wrist tag:  I made a template out of scrap paper - I wanted the tag to be over exaggerated in size and big enough to fit around my wrist. Once I came up with my desired shape I traced the form onto pink poster board.  I printed 2 Barbie logos on regular printer paper and glued them on either side of the pink label.  I wanted the tag to last (I'm big on re using costumes) so I laminated the tag and added Velcro (the Velcro didn't really work so I ended up stapling it instead).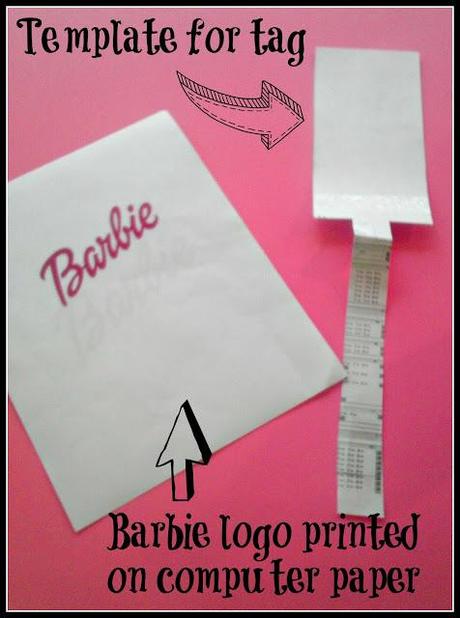 DIY Mattel logo purse: I don't exactly scream Barbie so I didn't want anyone to question who I was trying to portray.  If the Barbie tag and blonde wig wasn't enough, I figured the Mattel logo had to seal the deal.  I printed 2 logos on white paper, glued them to squares of red poster board and had them laminated.  I adhered them to either side of a clutch I already had (using Velcro) then rimmed the purse with red duct tap.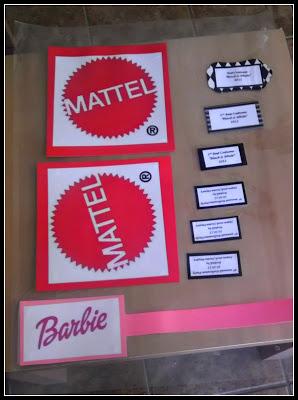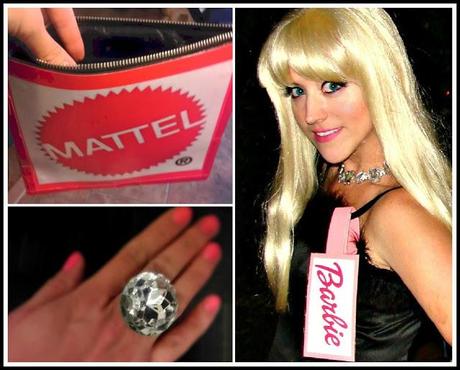 This was such a fun costume and I felt like a million bucks!!