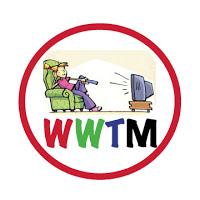 THE ANSWER TO MONDAY'S TRIVIA QUESTION: Steve Carell started out on The Daily Show then left for The Office and currently stars in the very bizarre movie, Foxcatcher. 
FIRST FIVE: Mike O'Dea, Phyllis DiCesare, Lillian Doremus, Priscilla Paez & Caryn Vitolo
HONORABLE MENTION: Jim Carter

THE NUMBERS
Friday's Cable Top 5
Gold Rush-Discovery 1.5/4.2
NBA Basketball-ESPN .9/2.1
American Dad-Adult Swim .8/1.8
Toy Story-Disney .8/3.2
American Dad-Adult Swim .7/1.7
Sunday's Broadcast Top 5
Sunday Night Football-NBC 7.7/21.8
Football Night in America-NBC 5.6/16.9
The Simpsons-FOX 2.0/5.0
60 Minutes-CBS 1.7/11.5
Undercover Boss-CBS 1.7/8.9 
Sunday's Cable Top 5
NA
Top 5 DVR'ed Programs for the Week of 11/24/14-11/30/14
Criminal Minds-CBS From a 2.2 to a 3.8 (+73%)
Gotham-FOX From a 2.3 to a 3.8 (+65%)
NCIS-CBS From 2.5 to a 3.7 (+48%)
Elementary-CBS From a 1.2 to a 2.4 (+100%)
Grimm-NBC From 1.2 to a 2.4 (+100%)
Sunday's Top 5 Nielsen Twitter Ratings
WWE TLC: Tables, Ladder & Chairs-PPV 203,000 Tweets
Barbara Walters 10 Most Fascinating People-ABC 109,000 Tweets
Newsroom-HBO 22,000 Tweets
Kourtney & Khloe Take the Hamptons-E! 17,000 Tweets
MLB Network Social Media Awards-MLB Network 6,000 Tweets
The final season of Sons of Anarchy set a record for FX as the most watched season of any FX series EVER. Season 6 was up 8% in viewers and 5% in A18-49. The series finale was the most watched episode of the series. The finale was seen by 9.2 million viewers and 6 million A18-49. It was the most watched show on all of television last Tuesday night against A18-49. 
THE SHOWS
Barbara Walters 10 Most Fascinating People of 2014
Barbara was supposed to hang it up last year and then ended this years show with the same proclamation this year. Gotta give her credit, she's still looking good…she is 85 years old and although there were some points in the show where her eyes looked like they were pulled open and she was in a permanent state of surprise, she's still one of the best in the biz. If you watched Homeland or Newsroom Sunday and bagged Barbara, here are the 10 who made the list: 
10. Scarlett Johanssen - not that interesting, but very very pretty and she can sing
9 Neil Patrick Harris - can do know wrong in my eyes
8 David Koch never heard of the guy before. He's the 6th richest man in the world and speaks with the most bizarre affectation. 
7 Chelsea Handler-still can't stand her
6 Oprah Winfrey - What's on her bucket list? She's going on a truffle hunt. She's in search fungus! That's what Queen Oprah wants and IS doing this holiday season. Searching for FUNGUS! 
5 Elon Musk-why no interview Babs? 
4 Michael Strahan-always so charming, but I would have traded him for Elon
3 George R.R Martin -no interview, but I didn't know he was from Bayonne NJ
2 Taylor Swift seems like a remarkable, grounded, real person. I love her
1 Amal Clooney-sooooo fascinating and yet, still no interview. All Barbara had was George Clooney saying he'd never marry…ever
So while Babs did interview 70% of her top 10, she only interviewed 20% of her top 5. I think I complained about this before, but it's the most fascinating people we'd WANT to see interviewed. If you can't get them, take um off the list or change the list to be called: Barbara Walters 10 Most Fascinating People she COULD get an interview with in 2014.  Hart of Dixie
When we last left Zoey Hart, she had finally realized that she was officially in love with Wade and she screamed it from the rooftops. Well, she actually just announced it over a loud speaker, but you get the point. The final season of Hart of Dixie kicked off last night with Zoey doing anything she could think of to win Wade back. She tried cooking for him, wearing a bikini, getting wet and flinging her hair around in that sexy way, serenading him and finally good old fashion beer and seduction. None of it worked. Well, I take that back. Wade did get some, but it was just sex. Wade just doesn't trust Zoey and couldn't deal with her breaking his heart again. Who'd have thought it would be Earl, Wade's newly sober Dad to turn him around and send him back to Zoey and take a chance? Who'd have thought that Earl would know what an amuse bouche was? Not me. (It's a bite size appetizer, just in case you were wondering). Wade went back to Zoey and said he would give it a shot and she slammed the door in his face. WTF? Welllllllll we all thought that Lemon and her new BF were preggers, but the BF was a fake and she just had the flu. The positive pregnancy test was Zoey's!!!  Didn't see that coming at all. What kind of doctor doesn't know how birth control works? How does a doctor have an unplanned pregnancy? Zoey and Wade are all I really care about at this point. George and LaVon fighting over Lemon is annoying. Brick and Shelby is even more annoying and the lone Bluebell Lesbian looking for love…ANNOYING 
Great Christmas Light Fight
Week 3 and the houses and the families were bigger and crazier. Computerized, synchronized light shows, music, dancing, blow molds and hand made reindeer it's amazing how much time these people devote to these displays. This week though there was Liz. She had a small house and made her entire display all by herself. It was beautiful and quirky and fun and right when Michael was judging it all…FIRE! I felt SO bad for Liz and so did the producers. She didn't win the trophy, but she got MY award of the night. Next week is the last episode of this show for the season. I don't know, I love lights on anything at this point, I say lights all year round! 
THE OTHER STUFF
-It's not huge news or a surprise and I'm not sure if anyone will actually care but FOX cancelled Gracepoint after just one season. FOX REALLLLLY needs some help. I have plenty of ideas guys…give me a call. Happy to help! 
-I love the end of the year lists. Here's one you may find interesting, Google's Top Trending Global List of People Searched on Google: 
10. Donald Sterling
9.  Amal Clooney
8. Matthew McConaughey
7. Lorde
6. Jared Leto
5. Renee Zellweger
4. Tracy Morgan
3. Julie Gayet (WHO?)
2. Kim Kardashian
1. Jennifer Lawrence (yep…she beat Kim!)
-and here's another: The top 10 Twitter moments of 2014 were:
10. The Emmy's
9. The Winter Olympics
8. The Grammy's
7. The Super Bowl
6. The World Cup
5. The Golden Globes
4. Kim and Kanye's wedding
3. The VMA's
2. The Oscars
1. First Tweets 
Tuesday's Trivia Question: This actress started on Gilmore Girls, moved to Mike and Molly, made it big in Bridesmaids and currently stars with Bill Murray in the movie, St. Vincent. Name her. 
WWTM-Kristy Like me on Facebook at Watching Way Too Much
Follow me on Twitter at [email protected]
http://watchingwaytoomuch.com
[email protected]