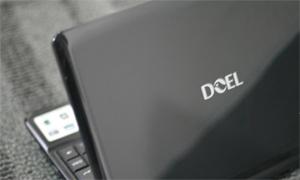 'DOEL' Laptop | Made in Bangladesh
The dream of Digital Bangladesh in realization! Bangladeshi Prime Minister Sheikh Hasina has unveiled the worlds cheapest and also the first domestically manufactured laptop named 'DOEL' today at the Bongobondhu International Conference Centre in Dhaka.
The laptop will be produced by the State owned Telephone Shilpa Sangstha (TSS) (টেলিফোনে শিল্প সংস্থা) 
in collaboration with 2M Corporation Ltd., Dhaka and TFT Technology, Penang, Malaysia. The primary device 
will be priced at 10,000 BDT (
6,490 INR |
 

US$132.3

) and

 will run on Google's Android OS.
TSS
is set to launch three more models by the end of this week which
would
run on
Intel Processors
are are priced at:
13,500 BDT (8759 INR

| US$178.6) - Basic model 

with Intel Atom Processor,

22,000 BDT (14272.67 INR |

US$291.1) -Standard model with Intel Atom Processor and,

26,000 BDT (16868 INR |

US$344) - Advanced model with Intel Pentium Processor.
This is indeed a great step towards the realization of the dream of Digital Bangladesh and bringing about e-governance; it would undoubtedly boost the connectivity across the nation and will drive digital connectivity in villages.
However, the government needs to do a lot more to improve the internet connectivity across the nation else the distribution of laptops wouldn't be of great benefit in terms of digitally connectivity. But, for sure this affordable laptop will cut the digital-divide among the citizens and will be very helpful especially for students.An important feature would be the presence of Phonotic Bangla Keyboard along with English in all the four laptop models. This would surely make it easy for the people who are not well acquainted with english and would increase the reach of digitization by making a larger portion of people computer literate.
People need to have realistic expectations from this affordable laptop  because they are aimed to cater the basic needs and not to deliver high end services but its surely a 'value for money' deal. 
Configurations: 
DOEL PrimaryPrice: 10,000 Taka

10.0″ LCD Panel (1024*600)VIA 8650 800MHz512 MB RAMIntegrated 0.3 MPWebcamWiFi 802.11b/g10/100M Ethernet LAN (RJ-45)2 USB 2.0SD Slot for Max 32 GBGoogle Android Integrated DOEL BasicPrice: 13,500 Taka
10.1″ (1024*600) WXGALED BacklitIntel® ATOM Processor 455 1.66GHzIntel NM 10 Express Chipset.Intel ® GMA 3150 (Integrated) Graphics.1GB DDR3HITACHI/TOSHIBA SATA250 GB HDDIntegrated 1.3 MPWebcam802.11 bg/n10/100M Ethernet LAN (RJ-45)3 USB 2.0
Linux Based OS DOEL StandardPrice: 22,000 Taka
12.1″ (1360*768) WXGA LED BacklightIntel® ATOM ProcessorN470 1.83GHzIntel NM 10 Express Chipset.Intel ® GMA 3150 (Integrated) Graphic2GB DDR3SATA 320GB HDDIntegrated 1.3 MP Webcam802.11 bg/n10/100M Ethernet LAN (RJ-45)3 USB 2.0Linux Based OS DOEL AdvancedPrice: 26,000 Taka
14″ (1366*768) WXGA LED BacklightIntel® Pentium P6200 2.13 GHZ ProcessorIntel HM55 Chipset2GB DDR3SATA 320GB HDDDVD Writer ( Samsung )Integrated 1.3 MP Webcam802.11 bg/n10/100M Ethernet LAN (RJ-45)3 USB 2.0Linux Based OS
To get more information
click on
TSS | Doel Laptops

.
The Naming of this Laptop: 
This laptop is named after the National Bird of Bangladesh i.e. Doel দোয়েল (English: Magpie Robin). So this should clear the doubts of all the people who think that its named to 'sound' like 'Dell'. 
It's a matter of pride for all of us today…! 
জয় বাংলা !