If you were to name your Top 10 comfort foods, would bangers & mash would slot in somewhere?
It would for me! It's perfect for a Monday meal, to soothe away my back-to-work blues (not that I would knock it back any other day of the week, of course!).
When I was sent a case of Merrydown Cider to review, I couldn't resist trying their Bangers braised in Merrydown cider recipe. I already knew cider and pork paired tremendously well, so was certain it would be a tasty dish!
I made several changes to the recipe and method, so will post my version on this page (their recipe can be seen here). Here's what I did: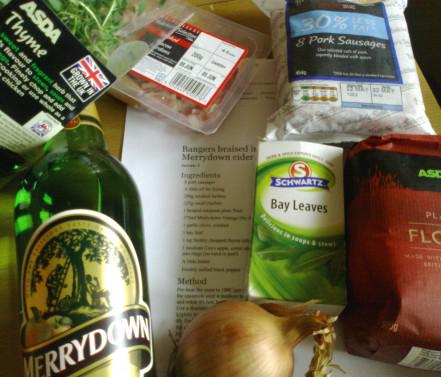 Ingredients (Serves 4… or 3 greedy people *blush*):
8 pork sausages
200g smoked lardons (or you could just cut up a few bacon slices if you have them in the fridge)
2 onions, diced
1 x tbsp plain flour
400ml Merrydown Cider
1 bay leaf
1 x tbsp chopped fresh thyme (I'm sure dried would be fine too)
First, I pre-heated my oven to 180 degrees.
I then browned the sausages in a frying pan, before transferring them to a casserole dish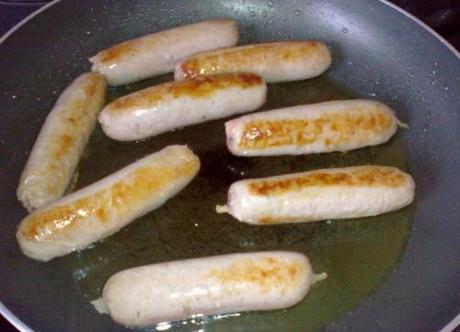 Next, I fried the bacon & onion for 5 minutes, until the bacon became crisp and the onions translucent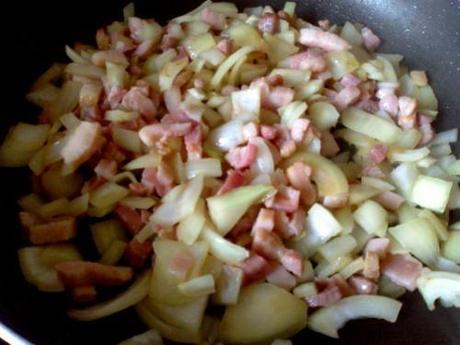 I stirred in 1tbsp flour, then gradually added the cider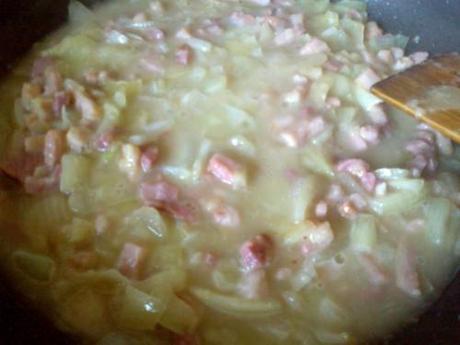 I poured it all into the casserole dish, seasoned with pepper (it doesn't need any salt, believe me), added my thyme & bay leaf and popped into the oven (lid on) for 30 minutes.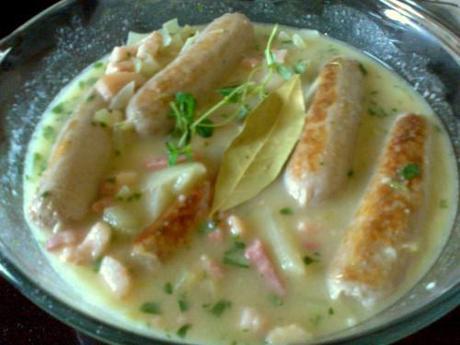 I removed the lid and let it cook for a further 20 minutes (whilst I boiled my totties).
I served it with mashed potatoes mixed with Light Garlic & Herb Philidelphia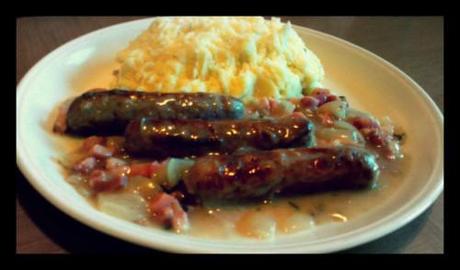 What can I say… it definitely climbed up a few places in that Top 10 of comfort food!
The cider gravy was a nice change to the usual onion gravy associated with bangers & mash. It was nice and light, yet packed a lot of flavor. The bacon lardons were a nice touch too… mmm salty goodness.
Merrydown are running a promotion where customers can win a host of "quintessentially" British prizes. When you purchase one of their promotional bottles, you enter the unique code (found on the back of the neck label) on this website and could be in with a chance of winning prizes including:
A Summer Street Party Kit (includes a gazebo, bunting and chairs)
Tickets for 2 to a County Show of your Choice (details of said shows on the website)
Gardening kits including a wheelbarrow and hand tools
Craft books (oooh this does appeal to my geeky nature)
Merrydown Cooler bags
Makes me want to leave work early and start up the BBQ… if I owned one.
Do you have any favorite recipes for using cider with? Next on my list is their pasta with ham and apple in a Merrydown cider sauce… yum!
Have a lovely week

x