So a bunch of guys get to talking and they all figure what the  hell, why don't we hit the road this fall, cut across Canada and play some really cool venues, and just blow the roofs off the joints?
And so it is said that Canada's Hill Billy Rockers: The Road Hammers along with Doc Walker and Blackjack Billy will be making there way across Canada this fall in support of their new albums with the "Bands On The Run" tour.  Now lets make one thing clear: These guys are not your mediocre bar bands,  These are veterans of the stage and have played all the big venues, but have decided to do the smaller ones to keep the place rockin' and allow for stops in cities that they may not normally get to play in.
The tour starts off November 20th in Fredericton and continues across the Great White North until December 15th where they play the final show of the tour in Vancouver at the storied Commodore Ballroom.  A full list of tour details can be found below.
For those of you that are looking for that little something extra, the bands have put a VIP Package together that is a great opportunity for fans to get even closer to the bands and have the Ultimate fan experience.
The VIP Package Includes:
One (1) Premium seat in the first 10 rows or early entry for General Admission
Pre-show acoustic performance featuring members from all 3 bands
Photo Opportunity with participating Band Members
VIP Gift Bag with signed poster and VIP commemorative laminate
Crowd-free access to pre-show merchandise sale
These packages are selling fast so for those of you that are looking for that ULTIMATE experience I have to say this gives you the most bang for your buck that's for sure.  This is sure to be one of the best shows of the Fall full tour listing below with links to tickets and tour website.
Corey Kelly  –  @CoreyKelly76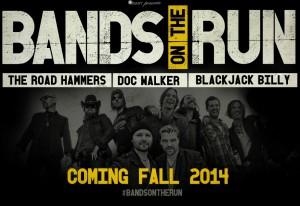 Bands On The Run Tour Coming This Fall
Date Venue Location Tickets
Nov 20 Capital Exhibit Centre w/ The Road Hammers, Doc… Fredericton, Canada VIP Tickets RSVP
Nov 21 Casino Nova Scotia w/ The Road Hammers, Doc… Halifax, Canada VIP Tickets RSVP
Nov 22 The Centre at The Casino New Brunswick w/ The Road Hammers, Doc… Moncton, Canada VIP Tickets RSVP
Nov 25 Guelph Concert Theatre w/ The Road Hammers, Doc… Guelph, Canada VIP Tickets RSVP
Nov 26 Cowboy's Ranch London w/ The Road Hammers, Doc… London, Canada VIP Tickets RSVP
Nov 27 The Grande Theatre w/ The Road Hammers, Doc… Sudbury, Canada VIP Tickets RSVP
Nov 28 Grand Theatre w/ Blackjack Billy, Doc… Kingston, Canada VIP Tickets RSVP
Nov 29 Empire Theatre w/ The Road Hammers, Doc… Belleville, Canada VIP Tickets RSVP
Nov 30 The Ranch w/ The Road Hammers, Doc… Barrie, Canada VIP Tickets RSVP
Dec 03 Keystone Centre – Westman Communications Group Place w/ The Road Hammers, Doc… Brandon, Canada VIP Tickets RSVP
Dec 04 Club Regent Casino w/ The Road Hammers, Doc… Winnipeg, Canada VIP Tickets RSVP
Dec 05 Club Regent Casino w/ The Road Hammers, Doc… Winnipeg, Canada VIP Tickets RSVP
Dec 06 River Cree Casino w/ Blackjack Billy, Doc… Enoch, Canada Tickets RSVP
Dec 08 Casino Regina w/ The Road Hammers, Doc… Regina, Canada VIP Tickets RSVP
Dec 09 Casino Regina w/ The Road Hammers, Doc… Regina, Canada VIP Tickets RSVP
Dec 11 Saskatoon Credit Union Centre w/ The Road Hammers, Doc… Saskatoon, Canada VIP Tickets RSVP
Dec 12 Cowboy's Dance Hall w/ The Road Hammers, Doc… Calgary, Canada VIP Tickets RSVP
Dec 13 Kal Tire Place w/ The Road Hammers, Doc… Vernon, Canada VIP Tickets RSVP
Dec 15 Commodore Ballroom w/ The Road Hammers, Doc… Vancouver, Canada VIP Tickets RSVP
www.bandsontherun.ca