Exactly as I say in the title....what do I know about bananas ? So I put on my thinking cap....
  I recall a general knowledge question from school, " How many skins does a banana have ? " Plus I recall the answer ( which still sort of puzzles me )....the answer will be at the end.
  Also I remember bananas being sort of shaped like a letter 'C' or a crescent shape, and if a child were asked to draw one that's how it would be depicted. However, they now seem to be sort of straight with a curve only at the stalk end. Is this due to an EU directive and will it now revert back now that we've left ?? After all the song said ..." I've never seen a straight banana ."
  I involved Don with this theme and got him to retell the story of going down to Preston docks, as a child, to watch the banana boats land their cargo. He said that the ships were streamlined , like clippers, to give speed through the water. You see the bananas were picked very green and took three days ( he said ) to travel from the Windward Isles. On berthing at Preston they were quickly unloaded and transported to be sold before they spoiled. Sometimes this involved unloading at nighttime depending on the tides, as they lay at anchor in the Ribble estuary for the tide to be right,
  Now, all day I've had the Harry Belafonte song about bananas going round in my head..." Hey, mister tallyman , tally me bananas. Daylight come and me wanna go home. Six foot, seven foot, eight foot bunch....."  The Banana Boat Song from 1956.....Don recalls the very large bunches being unloaded. Who recalls the spiders that might be lurking in the bunches ?
  I looked up 'Yellow Banana ' and came up with a 1966 Ford Galaxy, built by Nascar and driven by Fred Lorenzen. It was bright yellow, had a dropped nose, chopped roof and raised rear. Some car ! Then on BBC 'Trainspotting ' this week they enthused about the 'banana train'..a bright yellow maintenance vehicle that inspects the tracks.
  So I don't know much about bananas...except I seldom eat them as they often give me indigestion and if I do eat one it has to be still on the green side.
  Oh ! I nearly forgot my husband made banana wine once...it never reached maturity as the bottles exploded !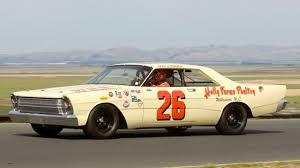 NASCAR.".yellow banana"
   I wrote these few lines on my return from The Lakes this evening...        
  Banana Kisses
We clasped hands, to say goodbye
And you gave me a banana kiss.
Now then, how do I best explain this...?
Well he had banana and cream as an after
And his flavoured kiss reduced us to laughter !
So never refuse a banana kiss
As the after taste is sheer bliss !
Thanks for reading my nonsense.....and the answer was  Four Skins .....seemingly when you peel it it should separate into four sections of skin.....Kath
Email This
BlogThis!
Share to Twitter
Share to Facebook
Reactions: