I haven't been able to go out much since my appendicitis and surgery earlier this week, but I have been exploring a lot more of the takeout options around me in Southie! Today I made my first trip out of the house in a few days (the fiance drove) to pick up some prepared foods from Baltic European Deli.
   Baltic European Deli is a cute store in a Polish neighborhood of South Boston. The shop is small but packed full of a huge selection of imported and prepared foods including a deli, bakery, frozen prepared foods, and other grocery items. Everything in store is either imported from Poland or made from scratch using local ingredients and traditional Polish recipes. I had been planning to pick up some prepared items for my Dad's birthday anyway (he's Polish and grew up eating this type of food), and since I've been out of commission I decided to grab a few things for myself for a quick and easy dinner!
   There is a huge selection of kielbasa, sausages, and meats at the deli. I went with two recommended leaner and slightly higher end sausages, one smoked and one not. They were both delicious! I also tried the potato and cheese and meat (beef and pork) perogies which were perfect steamed, and topped with a dollap of sour cream. Finally, we had some potato pancakes topped with an apple and orange fruit spread we found in the shop.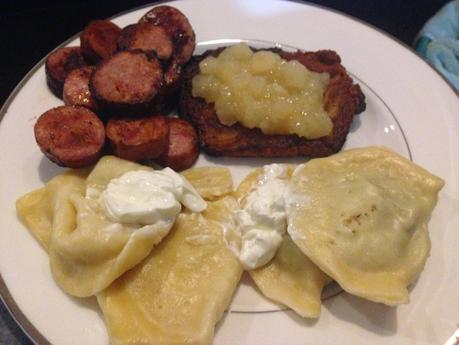 Overall it was a great meal, and I definitely plan to check out some of the additional prepared foods (and will probably make everything I tried already a regular staple)!