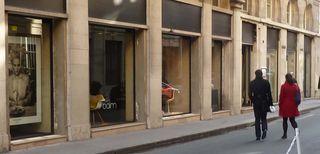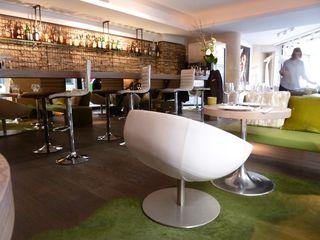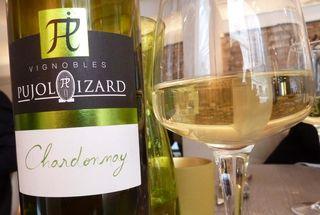 5.5 Balm, 6, rue de Valois in the 1st, 01.42.60.38.81, closed Saturday lunch and Sundays (Metro: Palais-Royal once it opens again) was described by Emmanuel Rubin almost a year ago as having prices "sur une autre planete."  He gave it one measly heart but his readers gave it three and as I passed it several times en route to Le Lulli and the Valois I thought it looked cool.  And it does have a reasonably-priced formula.  So.....
I invited a wonderful friend who just arrived for a sabbatical and who needed a break from installing a new front door, getting new VISA cards and rehooking up her electronic eqpt in her Left Bank flat.  We settled on a nice Chardonnay and settled back - and in poured guys in suits, waves of guys in suits - from the Palais Royal's Government Offices - Wow, they must earn more than I thought.  And the decibel level shot up past 78.8 dB.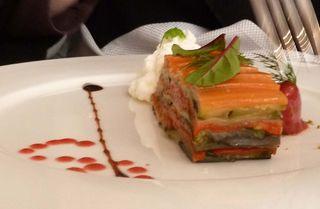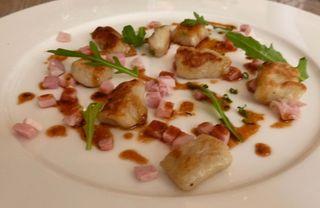 My guest and I puzzled over the differently colored but extremely cool menus of the lunch formula and carte and she settled on two starters (41 E) and I the 37 E "formula".  Her first first was a beautiful layered millefeuille of veggies where the eggplant really soared over the other (carrot, zucchini, etc) flavors and I had the mini-gnocchi with Paris ham that she declared "flat" until I added some salt.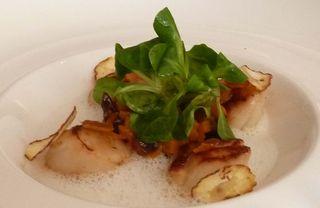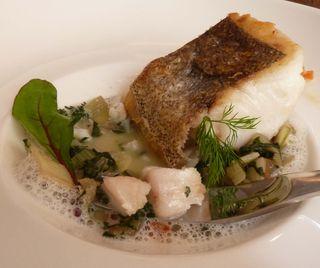 Then she had some overcooked (IMHO) scallops in a lovely sauce and I had a terrific piece of merlu with blettes and herbs in an equally lovely sauce.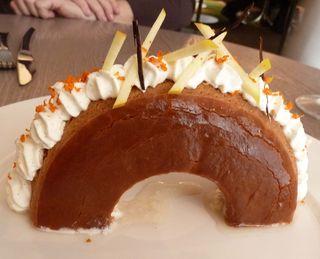 And then we shared what was called a baba au rhum but looked suspiciously like either the Gateway to the West Arch in St. Louis (my reaction) or McDo's Arch (hers).  In any case, once knocked over it was OK.
Our bill, with all the above plus very, very good bread and very good coffee, would have been 106.50 E had we not dwelled over dessert with a bit more wine.  But let's call it 106.50 E for a couple, if, if, one sticks to the formula and firsts.
Go?  Because of the "other planet" prices, not knock-you-down food and proximity to Le Lulli, I'd say no.