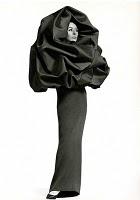 Balenciaga evening ensemble, 1967 Courtesy of Balenciaga Archives, Paris
Trying to decipher what influences a fashion designer can sometimes pose a challenge and sometimes just knowing the designer's biography is enough to understand him. Such is the case with Cristobal Balenciaga, the great Spanish couturier, whose creations were a love letter to his native country. The current exhibition, "Balenciaga: Spanish Master "is on view from November 19, 2010 through February 19, 2011 at the Queen Sofīa Spanish Institute in New York, a very appropriate venue.
"Balenciaga: Spanish Master" aims to show that when creating original and sophisticated ensembles, the kind that he was known for, Balenciaga always looked to Spain for inspiration. The exhibition is organized into six sections which beautifully and fully summarize Spanish life: royal court, religion, Spanish art, regional dress, dance, and bullfight. To demonstrate his point Hamish Bowles, the curator, displayed the clothing in front of either copies of paintings by Spanish masters of liturgical scenes or Spanish royalty, photographs of bullfighters and Flamenco dancers or peasants in their regional clothing. After viewing this exhibition, once does not need to wonder what motivated Balenciaga, it is as unmistakable as the red of the bull's blood.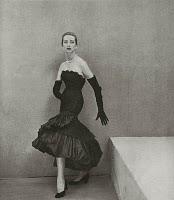 Balenciaga, Flamenco Inspired Evening Dress, 1951 Henry Clark/Vogue Copyright Conde Nast
  

Cristobal Balenciaga was born on January 12, 1895 in Guetara (a Basque province of Guipúzcoa). His mother served as the tailor and dressmaker to some of Spain's elite and Balenciaga benefitted from this immensely, some of these women later became his devoted followers. At the young age of 13, Balenciaga apprenticed with a local tailor. While we know of the designer's career in Paris, it must be noted that he actually first built a reputation for himself in Spain by opening couture salons in Madrid, Barcelona, and San Sebastián, an upscale resort town in the Basque region not far from Guetara. It was only in 1937 that, due to the disturbing events of the Spanish Civil War, Balenciaga left his country and moved to Paris, a city that he was already familiar with as he often visited France on his fabric buying trips. Balenciaga quickly became successful and it helped that the designer already had an established clientele, many of them also Spaniards living in Paris.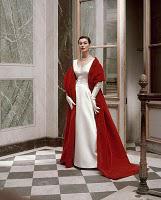 Balenciaga, Evening dress and stole, 1952 Frances McLaughlin-Gill/Vogue Copyright Conde Nast

The exhibition is filled with Balenciaga's greatest creations. While the clothing does not seem overly unconventional to our contemporary eyes, we must recognize that they were actually progressive for their time. The designer was constantly reinventing the fashionable woman's silhouette. By the time that Christian Dior introduced the New Look, in 1947, Balenciaga was already dressing his clients in feminine, body-hugging creations. Not only can we track his inspirations but also his stylistic range. Most of the garments featured in the show are from his Paris days (the 1950's and 1960's), the famed "Infanta" evening gown (1939) being an exception.
Perhaps the most breath-taking garments in the show are the one's inspired by Spain's two favorite past-times, dancing and bullfighting. Although he detested the gruesome sport, it was one of his richest sources for inspiration. An evening ensemble consisting of a romper and a pink (the same color pink as the toreador's stockings) silk faille bolero with tassels (winter 1960) closely resembles the chaquetilla and machos (bolero and tassels) or the traditional attire of a matador. And a white taffeta evening gown is adorned with printed red carnations (1956) - the flower thrown into the ring after a bullfight and the national flower of Spain. The floral embroidery on an evening dress of ivory silk (summer 1964) captures the rich colors of the dancer's dresses in Joaquin Sorolla y Bastida's "Vision of Spain, Sevilla, The Dance" (1916) and the lifted front of a black silk tafetta evening dress (1951) embodies the form and the movement of a Flamenco dancers body. The designer's passion and attention to detail was also carried through to the accessories (he is responsible for the first pillbox hat in 1952): traditional matador headgear, such as the montera, or a bullfighter's cap is referenced in a knotted black silk hat which is frayed at the edges to imitate hair and a hat made to look like a chignon with a rose tucked in suggests a knot of hair. The curator suggested that these whimsical hats were the perfect complements to the designer's serious clothes.
Viewing the exhibition there is never a doubt in our minds that the designer was truly a "Spanish Master". Balenciaga was a devoted man, devoted to his country and to his profession and, most importantly, his clients were devoted to him. And while everyone turned to Balenciaga to dictate the next mode, he turned to his heart, which never left Spain.