The sky in Texas is everything the poets and songwriters say it is. Standing outside the distillery, looking up at the old Waco Fireproof Storage building, now emblazoned with Balcones signage and logo, I was stunned by the soft blue accented with lazy white cotton. A light breeze was drifting through the scene and it felt like a good day for a Balcones Distillery Tour.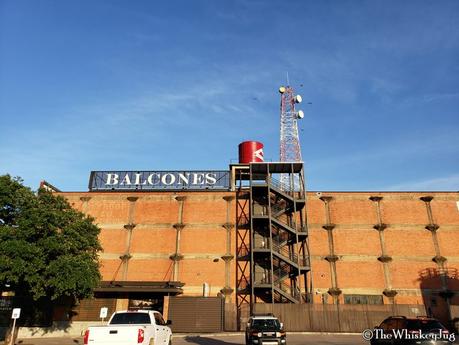 Over the next two days I'd tour the distillery twice, once closed with only the stills running and once while it was populated and everything, and everyone, was moving and humming along. My first guide would be a good friend, Winston, whom I've known for several years now, and my second would be Tommy. A man with a serious brewing background and a deep nerdy love of coffee.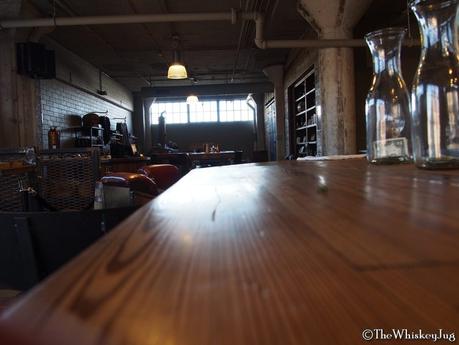 The first tour, the closed tour, started with a tasting in their beautiful bar area which was designed and built using reclaimed wood, and other materials, from their renovation and expansion of the building. Giving the area not just a sense of style, but a sense of time and place.
Joshua Thinnes and his crew from Plumpjack were there tasting barrels for their new store pick. I've known Josh for a couple of years and it was great to see another friendly face when I walked through the door. They invited me to sit down and taste through their tops and pick along with them. Hell of a way to do a tour, start with a tasting instead of ending with one.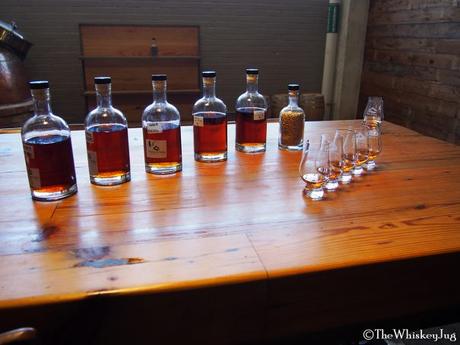 I've known Joshua for 2-3 years through Malt Nuts events and through these I've noticed we end up picking a similar top set at these events. So, it was little surprise that my favorite pick was also Josh's top pick. The selected cask was intensely fruity with a nice malty backbone that immediately made me think of a "classic Speyside" profile. It's an amazing cask, SF is in for a treat with that one.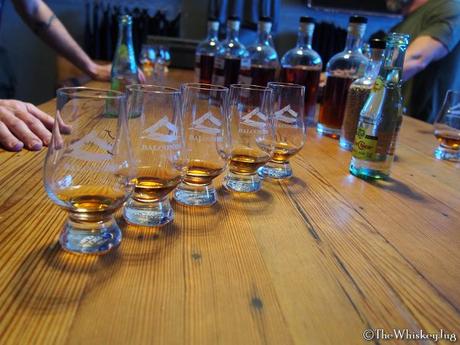 After one more sip of the top pick – and a fun chat with Master Distiller Jared about Doc Martens, Social Distortion and 90s Punk Rock – Winston and I headed into the temporarily abandoned distillery. The building hummed softly from electric machinery and the elastic energy of those who recently left and would return tomorrow. This is where my first Balcones Distillery tour started, but not where the company did.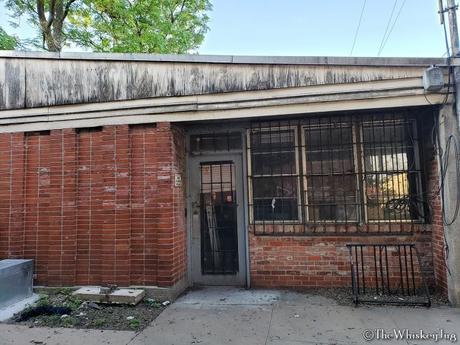 At the end of day 1, we visited the original Balcones location. Tucked under a freeway, it was far more humble and diminutive than I had imagined or assumed from old photos. In the corner of their new bar sits one of the original stills, but even from seeing its tiny size it was hard to imagine the cobweb-covered shack before me as their original home. Humble beginnings is an understatement; it was felt like an optical illusion of the mind's eye.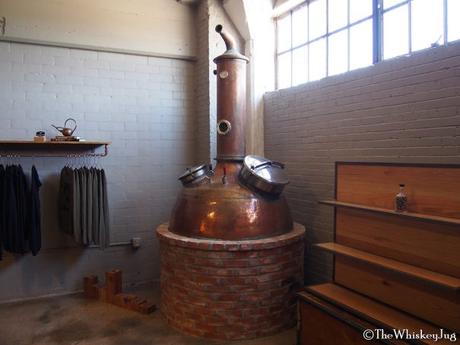 How could this behemoth of flavor and experimentation in the craft whiskey world have started here? Seeing this site was inspirational and should be on all the tours… and maybe it will. Balcones still owns the building and we chatted about what it could possibly be turned into. Balcones museum, distilling school, experimental distillery, barrel storage, all of these combined or something else entirely.
The day concluded with tacos and then I went to a bar and Winston drove to Dallas. I never feel lonely in a bar or a city by myself. A decade of solo traveling for the day-job brings a set of skills for dealing with being in places where the closest human you personally know might be hundreds or thousands of miles away.
It's during this time, these "lonely moments", you get to take the pulse of the city and see how it moves. The pulse of Waco is friendly, the going is easy and the local beer is pretty good. I ordered another glass of something local, closed my tab and grabbed a Lyft to my hotel.
I was excited for tomorrow, to see the machine in full operation. Tommy was picking me up at 9:30 am and we had a lot to get through before my evening flight back to Los Angeles.