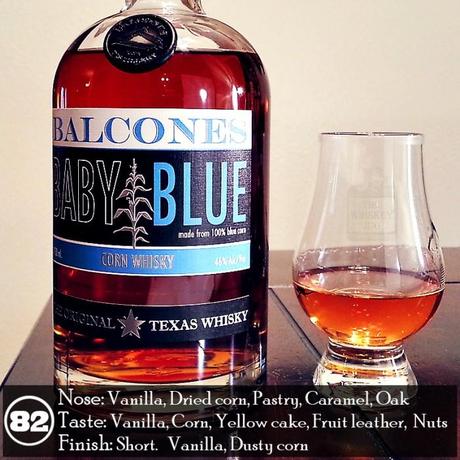 Balcones Baby Blue is corn whiskey distilled from blue corn, hence the name. Though what the name doesn't tell you is that it's surprisingly tasty. Full of flavor and well balanced the boys down in Waco Texas know what they're doing (or at least under Chip they did). Using 100% blue corn Chip Tate, the now ex-master distiller there at Balcones, created something unique and absolutely delicious. The distillery itself is only 6 years old and in that short time has collected more awards than most other craft distilleries in that last 6 years.
Now the big question is, what will happen to the taste of the whiskey now that chip is gone? It's no secret that he's been removed from the company after a crazy fallout and it will be interesting to see what happens to the distillery and the whiskey now that he's gone. It will also be exciting to see what he does next because the man has an amazing talent for distillation and I'm sure whatever it is, it will be great.
Balcones Baby Blue Review
ABV: 46%
Price: $45
Distiller: Balcones Distilling, Waco Texas
EYE
Deep caramel
NOSE
Vanilla comes shouting out first. Not the imitation vanilla that you sometimes get in corn whiskey, but real vanilla bean vanilla and it's amazing. Following the vanilla are some notes of dried corn, fresh pastries, caramel and an oak so light my mind might be playing tricks on me.
PALATE
Again that vanilla. So damn good. It's followed up with a cornucopia of corn flavors. Corn meal, corn bread, corn cakes and corn chips. Next to all that corn is some yellow birthday cake, berry fruit leather and some roasted nuts.
FINISH
Vanilla fades to a stale dusty corn and then back to vanilla. Shockingly short finish.
BALANCE, BODY & FEEL
It's not wildly complex, but there's a nice symmetry to what's there. A rich round body and a texture that's smooth as corn silk that goes down warm with a little burn completes the experience.
OVERALL
I really enjoy the Balcones Baby Blue; it's a lovely corn whiskey. I enjoy the warm, almost nutty corn and vanilla aspect that flows through it. While it's not complex it is tasty and well composed. There's not a whole lot out there to compete with with in the corn whiskey world, but at the moment this one is reigning supreme in my book. Though I hear good things about the True Blue too and now I think I'll need to track some down.
SCORE: 82/100