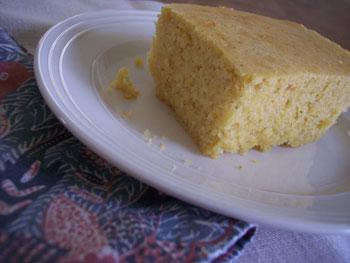 Cornbread
I wonder if baking is a well-known form of grief therapy… For the past week, almost every day since our dog Arrow passed away, I have done some kind of baking. It has so far been quite humble – the Best Blueberry Muffins from
Muffins: Sixty Sweet and Savory Recipes
, or Sayra's Cornbread (with the optional brown sugar and a substitution of melted butter for cooking oil) from
Sundays at Moosewood Restaurant
, or Banana-Berry Muffins from
Hay Day Country Market Cookbook
. For me, there is an intuitive and familiar rhythm to baking – it is almost ritualistic in its simple potency, for its ability to ground me, bringing my spirit back to a sound and solid place. The entire process is a practice in focus, love, quiet, stillness, and creation. From choosing a recipe, to removing bowls from cabinets, cracking eggs, pouring milk, stirring, beating, pouring, smoothing, tapping, and sliding into the hot oven with good wishes for everyone's ultimate enjoyment, I find it wholly rewarding.
Baking was an early love of mine, and it could be that even at ages seven, twelve, fourteen, seventeen… it was at times an act of therapy, or at the very least, a way to let go the stresses of the day. My stepmother taught me how to bake bread, and every year at Christmas we baked a variety of beautiful loaves to bring to our friends and family. Braided onion bread was a favorite. We also made marzipan cookies in the shapes of fruit, all wonderfully packaged. I was fortunate to have spent some time working as a baker at Hay Day (for which the above-mentioned cookbook is named), which was a gourmet market in Connecticut, where I daily baked half a dozen varieties of hearty breads, numerous pies and quiches, and countless muffins. There was a sure exhilaration to filling baskets with baguettes before the sun rose, and it was exciting to see scones fly out of the store with the early morning shoppers. My husband and I even baked and decorated our own wedding cake (an ambitious and delicious endeavor).
This passion for baking has been a thread running through much of my life, and this simple love helps renew my joy, from day to day. In the week since the loss of a sweet pet, it has been a gentle therapy.