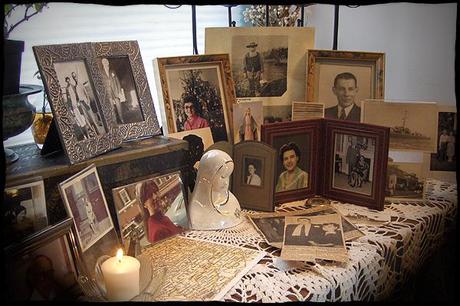 Each year my family incorporates a Day of the Dead ritual into our Halloween celebrations. Inspired by activities from around the world, we set aside some time around October 31 - November 2 to acknowledge and honor our ancestors - both known and unknown. Although we always keep many family pictures on display and our house is decorated with quite a few objects that have been passed on through generations, the practice of bringing together a selection of photos, heirlooms, and items of special meaning at this time gives focus to the love, gratitude, and prayers of good wishes we feel for those who went before. The name, Day of the Dead, may mislead - in fact, this celebration tends to be quite warm, and it brings to Halloween-time a deeper significance.
This year I created our ancestor altar on a small antique sewing table, in the corner of our living room. I'm kind of the genealogist in the family and have ended up with a good collection of family photos. Many of them are from my father's Virginia side (although they were mostly farmers and cabinet-makers, they took more photographs than any of the other, poorer, branches of my family tree). My Italian grandmother Josephine, who passed away this May, is central in the photo, accompanied by a figurine of Mary she made, and newspaper clippings of her parents. The altar cloth is one she crocheted many years ago. I do wish I had more pictures from my mother's side, but there in the pewter frames with the vines are my Babcia and Grampa, and his father, with my mom and Babcia below, and a map of the area of Poland they're from (oh, and of course, a wooden box from some Polish vodka!). Unseen in the photo is a large black candelabra that gives light to the whole altar, as well as roses from my grandmother's funeral, that I dried and keep in my bedroom.
This selection is actually fairly small, but most of these photos and many others remain out all year. There is something to this season that quite beckons such focused reflection, on the past, on nostalgia, on passing away and moving beyond.