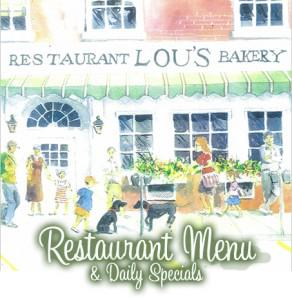 As an aspiring vegan, I love finding more mainstream restaurants who offer menu selections that I can eat without too much tweaking, omitting, or substituting. This past weekend my husband and I stayed overnight in the Upper Valley, and we were pleased by the number of restaurants that had an inclusive attitude – and they weren't just inclusive toward vegans, but toward those who are gluten free as well. I consider this more than inclusive – it is also enlightened.
We arrived in New Hampshire in the early morning, with the expectation it would take at least two or three stops before finding a place for breakfast. Our first stop was Lou's, in Hanover. When I was growing up, my family ate at Lou's countless times, because it was in the area of an old family home we visited often, across the bridge into Vermont. Lou's is known for great food in a comfortable, busy diner setting – popular with locals, as well as tourists and Dartmouth students. As a kid I always loved their blueberry pie. This time, I skimmed past the traditional breakfast dishes, down to the area of the menu titled Healthy Starts. I admit to a slight twinge in avoiding all of the variety in most of the menu (which is one of the hardest things about being vegan, for me). However, at home I often enjoy hot cereal with added apples, walnuts, maple syrup, and almond milk. I find it to be as delicious as any stack of pancakes. So I gladly ordered the "Porridge – Lou, Goldi, & the Bears," described as a "delicious organic grain cereal." It was made with whole oat groats, rye berries, spring wheat berries, and red winter berries. I ordered mine with raisins, maple syrup, and soy milk. Like breakfasts at home, this hot cereal was yummy, as well as hearty and healthy – and vegan. We were thrilled with our breakfasts. Also, it always makes us feel more welcome when soy milk is offered, even when it's just for use in coffee.
For the rest of the weekend, we were pleased to easily find other places serving vegan choices – Molly's, also in Hanover, offered several more unique dishes – including a wood fired stir fry over brown rice, that arrived at the table literally sizzling. Driving up into the White Mountains the next day, our first choice for lunch – Cascades Coffeehouse in North Woodstock – happened to have a good assortment of vegan, which, along with the live Dead being played, made us feel happy and quite at home!
Living in Vermont, we see much emphasis on healthy, local foods. Unfortunately, "local" in Vermont often means an emphasis on meat and cheese, which sometimes seems a step in the opposite direction of where we are headed. That being said, Vermont is nothing if not progressive, so we are seeing more and more restaurants offering tofu and seitan choices, chef created veggie or bean burgers (made without eggs), and more restaurant staff willing to make substitutions when necessary.
As I said, eating out can be the hardest part of being vegan for me, because it means ignoring most of a restaurant's menu  (potentially what the chef considers their best dishes), and it can make one feel a bit left out. And that's especially if the only vegan choice is a hummus wrap or a veggie burger pulled out of the freezer. To have to eat out for most meals over the past weekend was difficult financially, but we made the most of it, and thoroughly enjoyed finding places that did not only offer vegan choices, but seemed pleased and proud to do so. It makes me hopeful that veganism is growing and becoming more mainstream. We'll be seeing many more restaurants incorporating creative vegan dishes – and who knows, maybe some of those vegan choices will eventually be chef specialties.
* Image from the Lou's Restaurant website