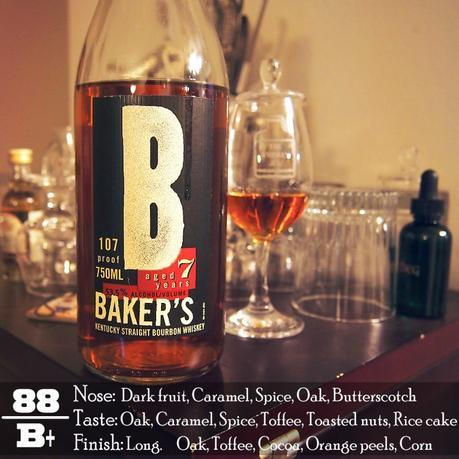 According to Jim Beam, "Baker's Bourbon is distilled at a lower proof and barreled & aged in small batches, allowing the bourbon to pull more toasted nut, fruit & vanilla flavor from the barrel wood. Today, Baker's is still made using this very technique & is aged only in our most select rackhouses for a robust bourbon flavor with a silky, smooth finish." Which is a fancy way of saying it's a well aged, high-proof, version of Jim Beam.
Like all of the other Small Batch bourbons from the Jim Beam Small Batch collection, the Baker's comes from the center racks of the warehouses, never the top or the bottom. It carries that bold aroma and flavor that comes through in Booker's and Knob Creek Single barrels, but it's a slightly muted version of that character. It's not quite as full and robust as I find many KC SiBs or most Booker's, but it's definitely within that range. Another great high-proofed expression of Jim Beam.
Baker's Bourbon Info
Region: Kentucky, USA
Distiller: Jim Beam
Mashbill: 77% Corn, 13% Rye, 10% Malted barley
Cask: New charred oak
Age: 7 Years
ABV: 53.5%
Non-Chill Filtered | Natural Color
Batch: B-90-001
Price: $60*
Baker's Bourbon Review
EYE
Coppery caramel
NOSE
Dark fruit, caramel, spice, oak, butterscotch, toasted cornbread, cocoa, brown sugar and a light touch of vanilla. The aroma gets a bit more complex with some water, but not wildly so.
PALATE
Oak, caramel, spice, toffee, toasted nuts, rice cakes, coca, brown sugar and a light touch of vanilla. Water helps open it up a bit here as well, but makes what's there a bit richer and doesn't add any additional layers of complexity.
FINISH
Long waves of oak, toffee, cocoa and orange peels slowly recede to a light corn and vanilla.
BALANCE, BODY & FEEL
Decent balance, rich and full whiskey with an almost creamy mouthfeel.
OVERALL
Baker's Bourbon is on the spicier side of the Jim Beam Small Batch collection but retains a decent balance between the spicy and oaky characteristics and the deep sweet characteristics. It has a light touch of vanilla that threads its way through the whole bourbon and brings it all together. It's a bit lighter and a bit more muted than some of the better Knob Creek SiBs or Booker's releases, but it's nothing to sneeze at either.
On the whole I like Jim Beam and these small batch releases are where they really shine for me. With the exception of Basil Hayden's, I fully enjoy the complexities and nuances that releases like the Baker's Bourbon bring to the traditional Jim Beam whiskey. Sure they all cost a lot more than the Jim Beam White or even the Jim Beam Black, but in my opinion they're at such a higher caliber that Booker's, Knob Creek and this, the Baker's Bourbon, are worth it. Good stuff.
SCORE: 88/100 (B+)
*Disclosure: This Baker's Bourbon was graciously sent to me by the company for the purposes of this review. The views, opinions, and tasting notes are 100% my own.