Foil packed baked salmon filets with fresh lemon, woodsy thyme, and salty capers are moist and delicious when topped with crumbles of tart feta cheese.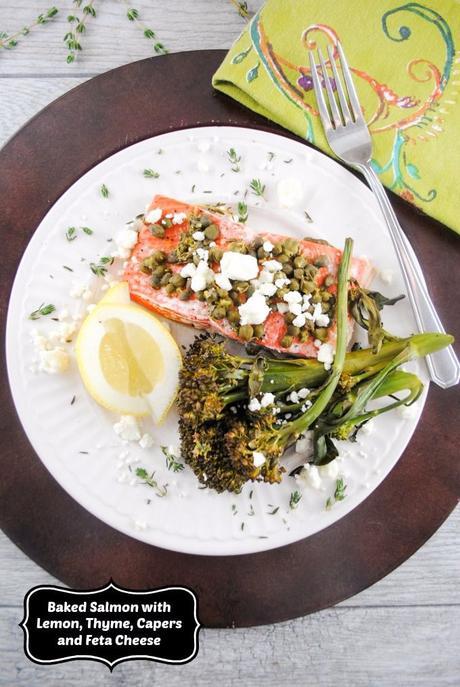 It's 5 Ingredient Friday, and this week's baked salmon recipe is super flavorful thanks to a handful of fresh ingredients.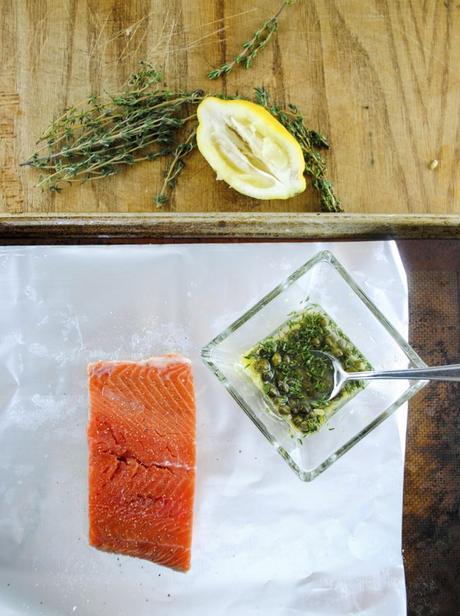 Most weeks our wild caught salmon filets are purchased from Costco's seafood freezers. It's not often I can buy sustainable fresh salmon at my local grocery store, so I keep Costco's offering on hand. They're always fresh and have that gorgeous color that makes a salmon meal so appealing.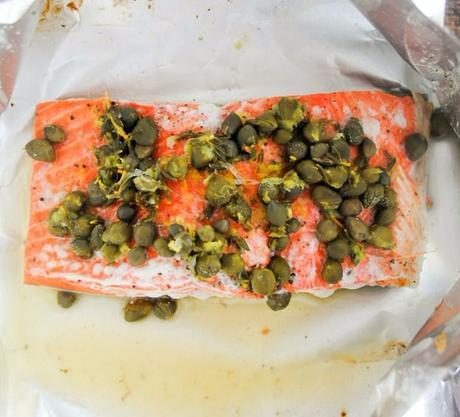 My plan was to wrap my salmon in foil packets and put them on the grill, but Seattle decided to dump buckets of rain yesterday, so I turned on the oven instead. I roast salmon all the time because I love that sweet and crunchy layer it gets, but enclosing filets in a packet with flavorful toppings is just as appealing. You can use foil or parchment to enclose your salmon, either work. I just happened to have foil on hand and since I'd planned to use the grill, it was a better choice.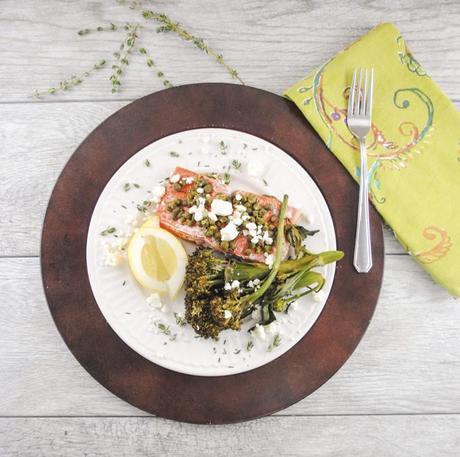 Mr. Mike's eyes typically glaze over if tartar sauce isn't served with his seafood, but when I attempted to drop a dollop of tartar sauce on his plate of baked salmon, he declined saying he was satisfied with his fish sans sauce. He even grabbed more roasted broccoli!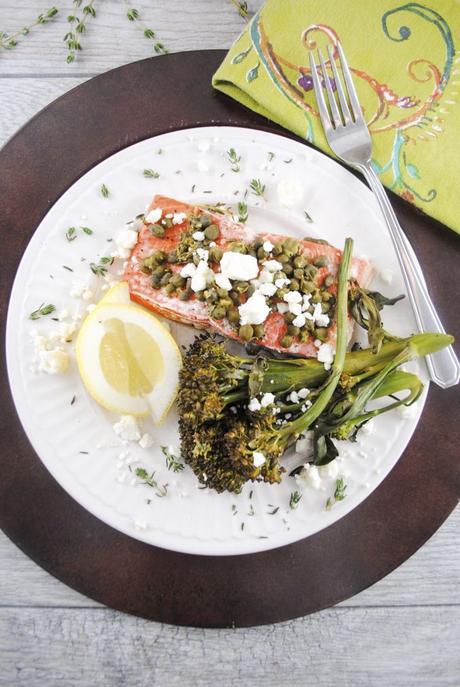 Before we part today, don't forget to check out Monday's post for a summery spinach and cherry salad sponsored by Crisp's tools for healthy living. Head on over to enter for your chance to win a Crisp Cherry Pitter.
Enjoy and have a terrific summer weekend!
Shake It Up
If you have dried or fresh dill in the pantry it would be a terrific substitute for thyme. If salmon isn't your go-to seafood of choice try cod, tilapia, and halibut.

Baked Salmon with Lemon, Thyme, Capers and Feta Cheese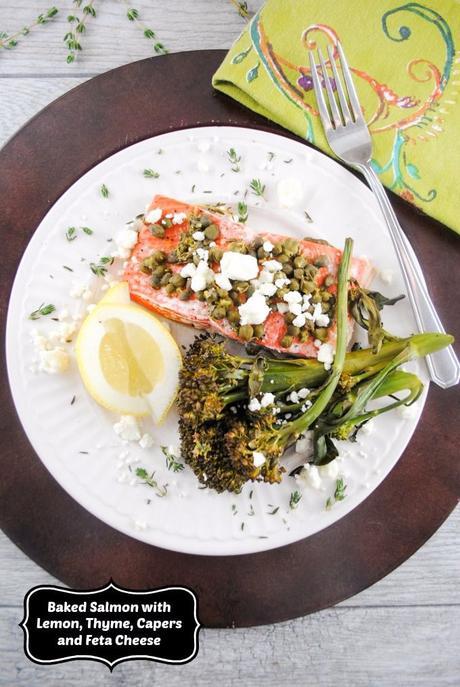 12 ounces salmon filets, 2 filets
1 medium lemon, zested, and juiced
2 tablespoons capers, drained
1 tablespoon fresh thyme, minced
4 tablespoons low-fat feta cheese, crumbled
Preheat the oven to 400 degrees and spray two large pieces of foil with cooking spray and place them on a cookie sheet.
Zest and juice a lemon and combine with thyme and capers in a small bowl.
Place one filet on each piece of foil and top with lemon mixture.
Fold two ends over salmon, then the remaining to ends up and fold together. You can do this any way that makes a package for your salmon.
Bake for 10 - 20 minutes depending on how thick your filets are. I would bake for two minutes, open the packet and take a fork to gently open the thickest part just a bit. If it's raw or opaque it's not done. Fold the foil back up and bake for another 5 - 10 minutes until just cooked through.
Serve with feta cheese.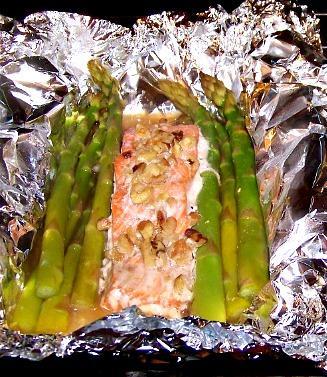 FYI - you might like this super easy foil-packet baked salmon with asparagus and a spicy Dijon mustard sauce too.