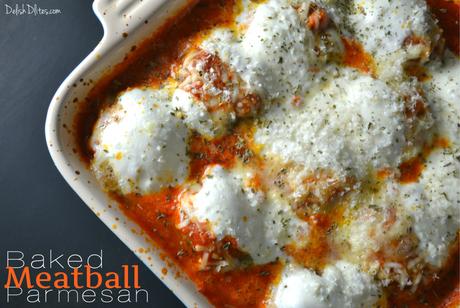 When I'm craving comfort food, I instantly think of meatballs. Call me crazy, but tender. juicy meatballs drowned in sauce and cheese just rocks my socks. This meatball recipe is super versatile, and ridiculously dreamy - just look at that cheese! I usually prefer 85/15 ground turkey for my meatballs, but you can also make these with ground beef or pork with equally delicious results. In fact, I encourage you to get creative and mix up the meat and herbage options for DELISH results.

Makes 12 large meatballs (4 servings)
3 tablespoons olive oil
1 medium onion, peeled and diced
Kosher salt & freshly ground black pepper
2 cloves garlic, peeled, smashed and chopped
1/4 teaspoon crushed red pepper flakes
1 20 oz. package of lean ground turkey (about 1 1/3 lbs)
1 large egg
1 cup grated Parmigiano Reggiano cheese (Parmesan)
1/4 cup fresh Italian parsley leaves, minced
1/2 cup breadcrumbs
1/2 cup fat free milk
1 24 oz jar marinara sauce
1/2 cup shredded mozzarella cheese
8 ounces fresh mozzarella, sliced

Heat 1 tbsp of olive oil on medium heat and add the onions. Season the onions generously with salt and cook for about 5 to 7 minutes. The onions should be very soft and aromatic but have no color. Add the garlic and the crushed red pepper and saute for another 1 to 2 minutes. Turn off heat and allow to cool.
In a large bowl combine the ground turkey, egg, Parmigiano, onion/garlic mixture, parsley, bread crumbs and milk. Use a fork or your hands to combine the mixture. Season the mixture generously with salt, mix one last time, being careful not to overwork the mixture. Don't worry, the mixture should be quite wet. Test the seasoning of the mix by making a mini hamburger size patty and cooking it. The mixture should taste really good! If it doesn't, it is probably missing salt.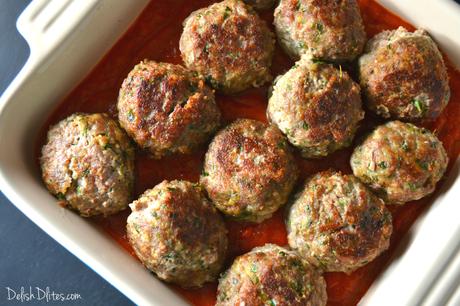 Shape the meat into desired size using an ice cream scoop. Some people like 'em big some people like 'em small. I prefer my meatballs slightly larger than a golf ball.
Heat a pan to medium heat and add the remaining 2 tablespoons of olive oil. Brown the meatballs on both sides, then set aside. It's ok if they're not fully cooked, they will finish cooking in the oven.
Coat the bottom of a 8×8 baking dish with marinara sauce, the lay the meatballs on top. Cover them with the rest of the sauce.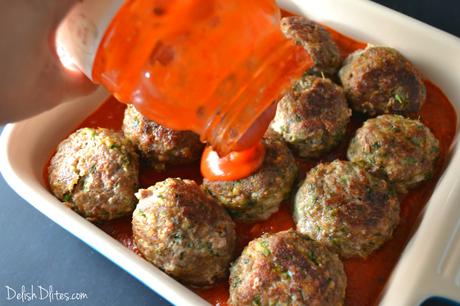 Top the meatballs with both types of mozzarella cheese.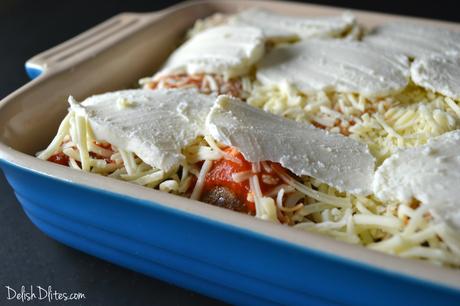 Cover the dish with foil and bake for 20-25 minutes, or until the cheese is bubbly and melted.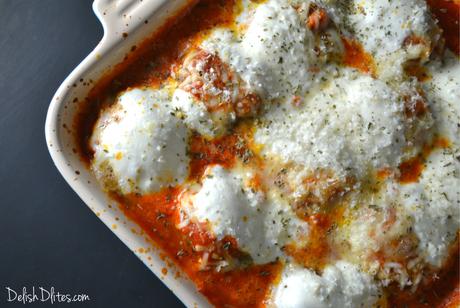 Serve with pasta, crusty bread, and a salad.