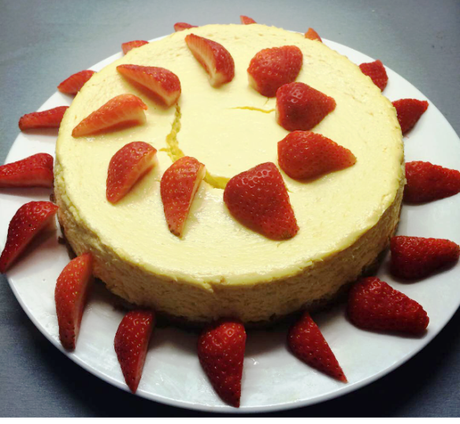 A perfect summer dessert – light, fruity, and easy to make!
The recipe is similar to my other cheesecakes, but, due to the inclusion of so much fruit, doesn't require any added sugar or yoghurt. It's delightfully simple in terms of ingredients – once you've got past chopping the juicy mangoes of course.
Ingredients
150g plain biscuits (I used gluten-free which worked perfectly, but any 'normal' kind would work as well, rich tea, digestives, etc.)
30g butter
350g cream cheese
450g mango, pureed (this is around 3 medium or 2 large mangoes, ripe ones work best)
3 medium eggs
Method
– Crush the biscuits into fine breadcrumbs, and mix with the melted butter. Press firmly into the bottom of a 6-7 inch round springform or loose-bottomed tin. Put into the fridge to chill while you make the topping.
– Ensure the mango is well-pureed (or mashed), so it is smooth with no lumps, and beat together with the cream cheese.
– Add the eggs and mix until just combined – no need to beat again at this stage.
– Pour the cheesecake mixture over the base. Give the tin a few taps to ensure it settles flat and allow any air bubbles to surface.
– Bake at 150 degrees C for 45 – 60 minutes. Check back after 45 minutes, you are looking for the top to be 'just set' – i.e. not liquidy and fluid when you move the tin.
– Once cooked, remove the tin from the oven and carefully run a knife around the edge. As the cheesecake cools it will shrink slightly, and this will prevent it from sticking to the tin as it does so! Leave in the tin until completely cool, before gently transferring to a plate. Refrigerate until ready to serve (can be made in advance, but keep away from any strong-smelling foods in the fridge.)
There were a few cracks on my cheesecake when it came out of the oven – but a lovely vibrant yellow mango color which I was really pleased with!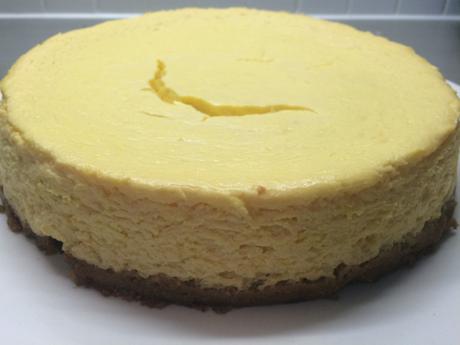 The cheesecake can be served as is – the delicate mango flavor would be overwhelmed by anything too strong in any case.
However as they were in the fridge (and to disguise the cracks!) – I added some quartered strawberries around the top and sides of mine.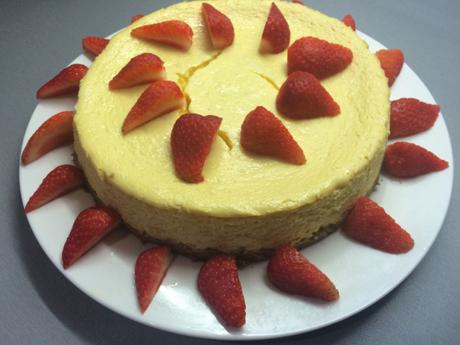 Inside – a soft, sweet, sticky cheesecake – perfect for those warm summer evenings that we're all dreaming of!