These crispy, savory, Puerto Rican baked crab empanadas are packed with an explosion of Latin flavors, but with none of the guilt.
If you ask me, empanadas are one of the most delicious foods to come out of Latin America. These scrumptious crab empanadas are no exception. Every culture has their variation on the dough and filling, but one thing is pretty common...they're usually fried. Instead of deep frying my empanadas, I brush my empanadas with Mazola® Corn Oil and bake them in the oven. They come out perfectly crispy, and way better for you! These tasty crab empanadas are my favorite thing to order when I visit Puerto Rico, they're the perfect treat to grab when you're on the beach. Many beaches in Puerto Rico feature kioskos, small beachside shacks that serve up all types of fried treats to snack on while you're baking in the sun.
What Kind of Crab To Use For Empanadas
For this recipe, I recommend using lump crabmeat. Lump grade crab consists of broken jumbo lumps and large chunks of body meat. It is less expensive than the colossal or jumbo grades, but still has bright color and superb flavor. Lump crabmeat is best for fancy, impression-making dishes where appearance matters, like butter-poached crab or crab Louis, where you want big, fork-friendly chunks. When it comes to crab cakes, lump crabmeat is the grade of choice. The chunks are large and will hold together with minimal binders. In Puerto Rico, it's common to use imitation crabmeat, which is also super delicious, so if you're on a budget, that works too.
How To Make Baked Crab Empanadas
I'm making some lighter swaps to traditional empanadas, which are usually fried...in lard. To lighten them up, I'm using pre-made empanadas shells that are made specifically for baking, they're available in the frozen section of your local supermarket. Most frozen empanada shells are made for frying, and don't come out well in the oven, so make sure to buy the ones made for baking. To make sure they come out super crispy, I'm brushing them with Mazola Corn Oil to achieve the perfect crunch, instead of frying them in lard.
Can I Make Empanadas Ahead Of Time?
Empanadas should be served immediately after cooking, so you can enjoy the optimal crispy crust. However, you can definitely assemble the empanadas and freeze them, uncooked. Then, when you're ready to make them, defrost them on the counter for 30 minutes, and then bake them according to the recipe instructions.
What To Serve With Crab Empanadas?
You don't need much to go along with these, except maybe a nice, cold beer! To make these baked crab empanadas as part of a meal, you can serve them with some traditional Puerto Rican arroz con gandules, and avocado, tomato & watercress salad.
Check Out These Other Latin Seafood Recipes!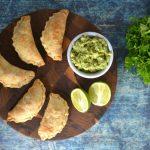 Crab Empanadas (Empanadas de Cangrejo)
For more ways to make simple swaps, visit Mazola on Facebook!