in our
last updates
we updated the news about
kedarnath online puja booking
. now here is the all details about that "
how to booking Badrinath puja online
" first of all you must be select one the them accoding to your suitable  time in badrinath shrine.here is the all puja details in badrinath temple.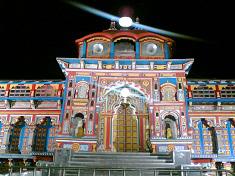 special puja         
 price in INR

`
shrimad bhagwat sapt-path                       21001
all day puja                                               21001
Morning time puja/pooja  
price 

`
Mahabhishik                                           6301                                          
Abhishek                                              4901
geeta paath (7.30 AM-3PM)                  2101
ved paath    (7.30 AM-3PM)                  1401
Note- only 2 or 3 person allowned in morning time puja due to crowd space inside the temple and the time of morning puja is 
 (4:30-6:30 AM)
here is the details of evening pujaa in badrinath temple-
   Evening Puja time 
   ( 6:00 to 9:00PM )
price
kapoor aarti                                  211
swarn aarti                                    490
vishnusahastranam paath                561
even pilgrimes can be make willingness donation with full devotion . but it is better if you personally contact with temple commitee on following details.
you can make a DD in the given details below after choosing your pooja types from the list. all the puja details will notified after the confirm receiving DD by the Committee.