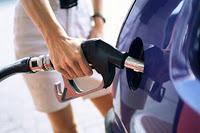 People used to laugh at those who paid more for bottled water than gasoline. Now we are back to paying more for gas. No one is laughing, except for us.
We thoroughly enjoy when gas prices go over $4 per gallon. Why? Well because we like to visit family up in CT during the summer, but traffic can be such a pain.
Back in the summer of 2009 when gas prices crossed over $4 a gallon, people simply stopped driving. This was nice for me since we were able to cruise up to CT in under 7 hours. George Washing Bridge in NY, no problem. Cross Bronx Expressway, not an issue.
This time, prices have increased slowly, almost allowing consumers a chance to get used to the absolutely ridiculous rates we pay for gas. Something else is different this time too. People are still driving.
A recent trip to DC had us stuck in traffic for two hours. Out on Long Island, the rush hour still starts at 3pm and runs until 7pm. Bad economy? Not a chance if you look at all of the cars on the roads.
Anyone who still thinks that the war in Iraq was over oil need only look at gas prices to know that is horse poop.