Free Back to School Supply List
Do you feel that feeling?  That "summer is almost over and it's time to go back to school" feeling?  We are feeling it around here.  Unlike the majority of the country that returns to school after Labor Day, we will start school back up on August 12th.  Summer started for us back in mid May, so it has been a nice long summer here.  But now that the summer is winding down, it's time to start thinking of all of those items your little one will need when they return to school.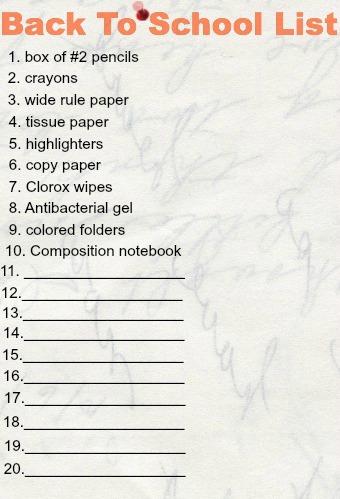 Back to School Supplies I remember going to school when I was (a lot) younger and not having a list to go by.  These days you are required to bring in so many different items it can make your head spin.  My oldest daughter literally brings a rolling backpack on her first day of school in order to tote in all of her required school supplies.   I remember the school supplying most of the "extra" supplies that were needed when I was growing up.  Now there are so many different things needed, and you are supplying for your child
and
the school.  I guess the good news is that you know what you need and can make sure you have it on the first day.  
There is one bonus that the schools here have started recently:  They will deliver all of the supplies to your child's class on their first day, for a nominal fee.  This year I could have written a check for $80 and all of my daughters supplies would have been wrapped and delivered to her classroom (with her not needing a rolling backpack).  That would have been great, but I missed the deadline by 2 days. (Procrastination runs in the family!) Now I literally have a 2 page list for her middle school supplies.  However, I'm not complaining, I like to bring her shopping and get her in the mindset of starting school. 
I thought I would share a few of the supplies most children need, and make an easy printable list that anyone can use when returning to school! I know every school is different, but you can also use this list to add in the additional items that may not be listed. 
                                   Click here to get your free printable Back to School supply list.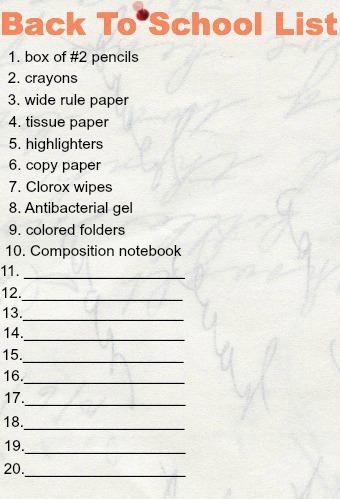 Back to School Supply List
Are you still enjoying your summer, or are you gearing up for back to school as well? Do you start up after Labor Day, or do you start in August like we do?