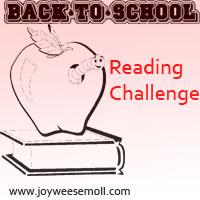 Welcome to the Back to School Reading Challenge and Wednesday Book Club! We're reading books to learn new things.
You're welcome to join us! The challenge runs until September 30 so there's still lots of time to participate.
---
We had one book review last week for the Back to School Reading Challenge:
Two people wrote update posts:
Chat Tonight!
We're meeting tonight on Twitter at 9 Eastern Time. We'll be using the hashtag #WSChat. WS stands for Wordsmith Studio, a group of writers learning together on the internet. They have graciously allowed us to take over a normal time slot that they use for book discussions to talk about what we're reading for the Back to School Reading Challenge
My Update
I've now finished three books for this challenge but have yet to write a full post on any of them. A post for The Whole Fromage by Kathe Lison will go up this afternoon. My book club meets to discuss Telling Memories Among Southern Women by Susan Tucker on Thursday. I'll be joining the Live Like Julia challenge on Friday, a fun event hosted by Karen Karbo in advance of the publication of her book, Julia Child Rules: Wanted: Bloggers to #LiveLikeJulia For One Week and Write About It. A busy week for my personal Back to School Reading Challenge!
How Children Succeed — a Back to School Read Along
Has anyone started to read How Children Succeed by Paul Tough? What do you think?
It got moved from the library book bag to my desk, so that's a good step!
If you have a review or other post related to The Back to School Reading Challenge, link to it below so we can all visit.