The Met reopens, concert halls are dark.
by Paul J. Pelkonen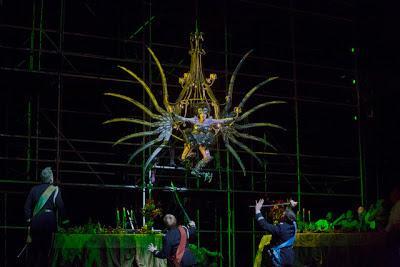 With the subways down, Ariel (Audrey Luna) can ride a chandelier to work!
Scene from Act III of  Thomas Àdes' The Tempest.
Photo by Ken Howard © 2012 The Metropolitan Opera.
(
Ed. Note:
We here at
Superconductor
have weathered
Hurricane Sandy
and expect to be resuming a full schedule of classical music coverage, time and the restoration of the Metropolitan Transit Authority permitting. We will attempt to continue publishing the very best in classical music coverage, although you may see more DVD and CD reviews on here in the next few days.)
Along with the city's electrical grid, the New York classical music scene is slowly getting back on its feet. Despite there being no subway service and the streets of our fair city overflowing with vehicle traffic, the Metropolitan Opera has announced that it will resume operations tonight. It is not the place of this blog to comment on the ironic coincidence that the work to reopen America's biggest opera house is Thomas Àdes' opera
The Tempest.
The Met resumes business as usual on Friday and Saturday with further performances of
Turandot, The Tempest
and
Le Nozze di Figaro.
Opera lovers who've already seen the Àdes opus have a choice tonight. At Lincoln Center's
Rose Theater
(located in the Time Warner Center at W. 59t St. and Broadway)
Teatro Gratticielo
will offer a rare performance of
La Nave
by Italo Montemezzi. This show is postponed from Monday night.
Tonight the
Flushing Town Hall
hosts the New York premiere of the monodrama
Lilith: Mother of Dreams
 with music by Demetrius Spanaes and libretto by Alexandra Honigsberg. Christine Rohm is the featured soloist.
At
Carnegie Hall,
where a collapsed construction crane across 57th street has led to evacuations and street closures, tonight's performance by the Mariinsky Orchestra has been cancelled. Too bad, because I was looking forward to going to this show dressed as a music critic. (I'd even bring a notebook!)
Also, the
New York Philharmonic
announced the cancellation of today's
Rush Hour Concert
. The orchestra's business offices remain closed, although upcoming concerts remain scheduled.
Meanwhile, in the spirit of Halloween, here's your treat for the day, Arrigo Boito's devilish opera
Mefistofele
: