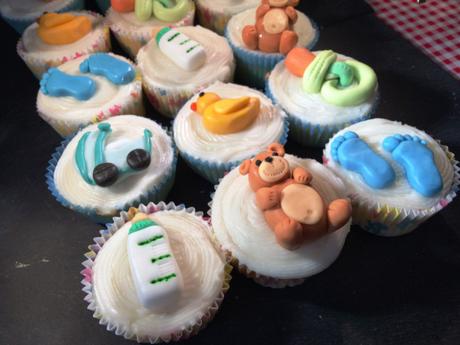 I'm going to come right out and say it. This is one of my proudest makes to date. I am SO pleased with how the fondant toppers turned out for these cupcakes – and so they should, god only knows how many hours they took!
This was my first ever baby shower, and I was so pleased to be able to make some cupcakes for the lovely mother-to-be. She and the rest of the party were delighted, as was I when they went down a treat.
The base was a light lemon cupcake, with whipped lemon buttercream, but of course the pièce de résistance are the fondant baby-themed toppers. You may guess from the color palette that it's a boy!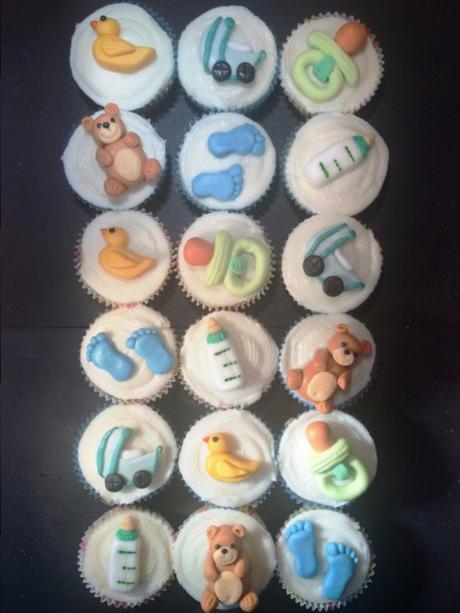 All the toppers are hand-made of course. Although one of the party asked if I'd bought them – what a compliment! I tend to get an idea for my projects then spend a bit of time on google looking at images for further inspiration and to figure out how I'm going to make the idea a reality. That was exactly the case with these – I sat with google image search open on my iPad with all my fondant and tools in front on the table, colouring and shaping the pieces and fixing together with a little edible glue.
I had 18 cupcakes in total, so decided to make 3 of each of 6 different varieties of topper.
First up – and probably taking the longest to make, smiley happy teddy bears.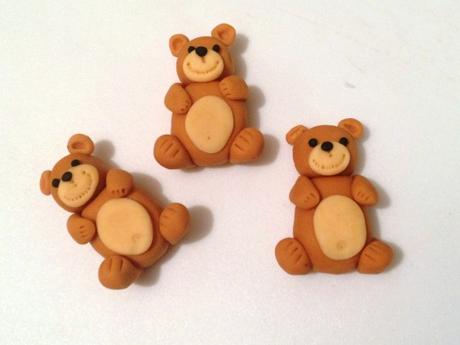 Teeny tiny baby footprints – blue for a boy, of course.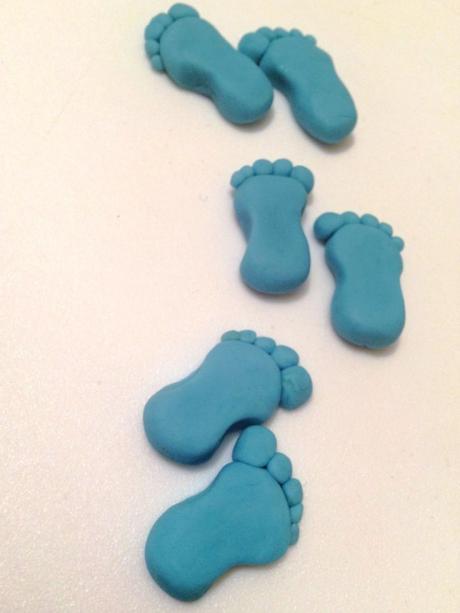 Three little ducks; these were great fun to make. Can someone please have a fowl-themed party, so I can do some more?!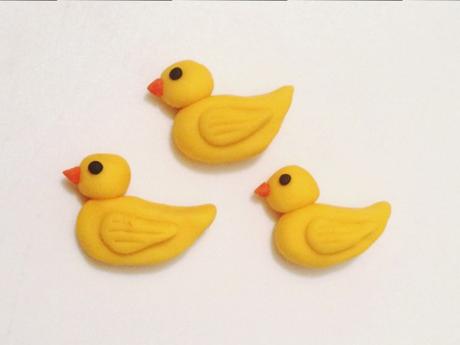 Baby dummies (pacifiers) – I used a pastel green so the color palette was not overwhelmingly blue.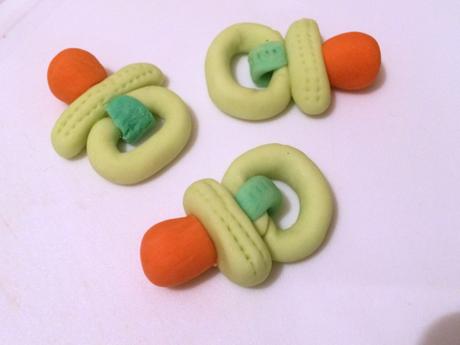 Teat-topped milk bottles, with hand-painted markers, using a little gel food color and a very fine brush.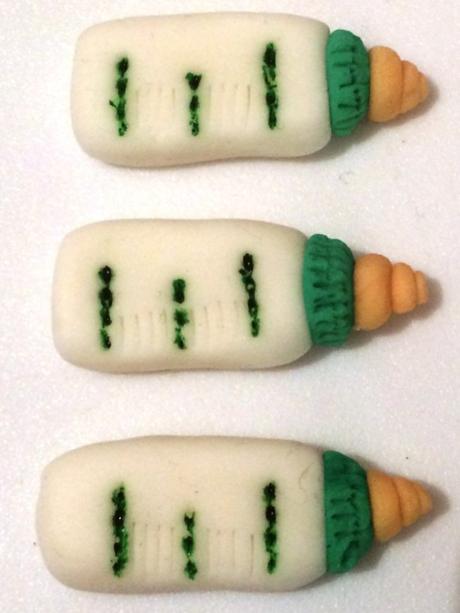 And finally – what every baby needs, a first set of wheels! Turquoise prams complete with little white cushions inside.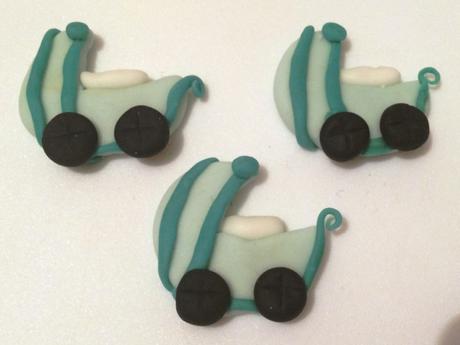 The finished set – absolutely love them!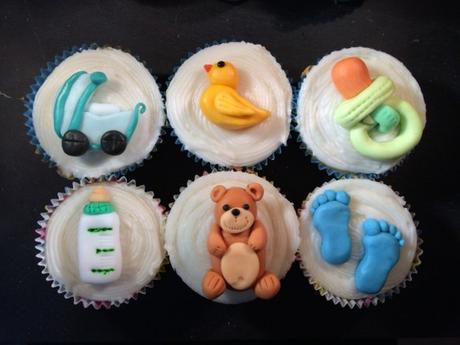 And because I'm so pleased with the result – more pictures, just because…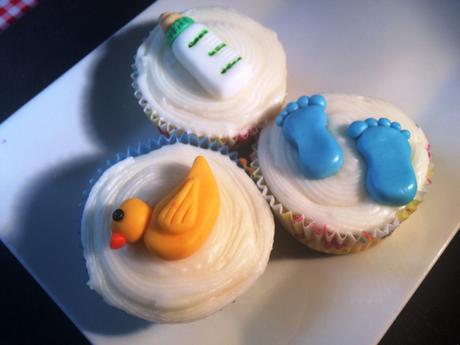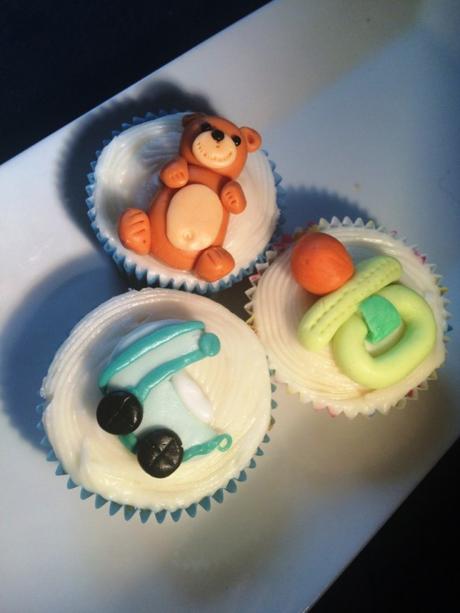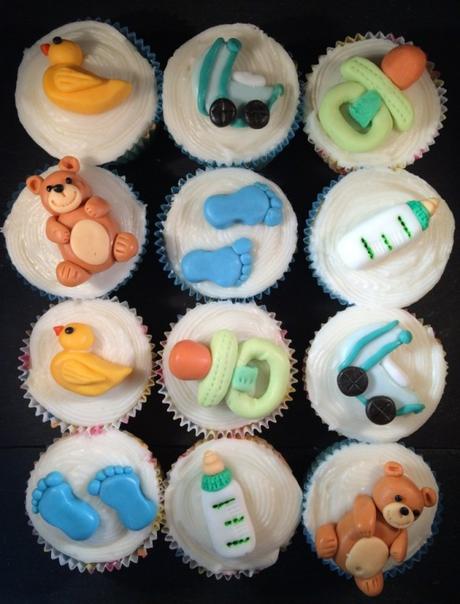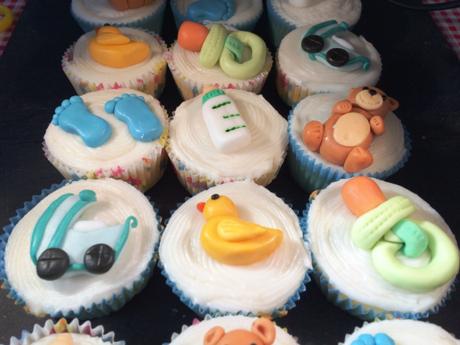 I took my Cath Kidston blue floral cake stand to the shower – a perfect display piece for these little babies.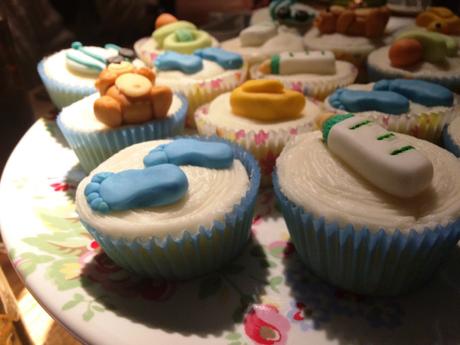 HOW cute are these baby shower napkins?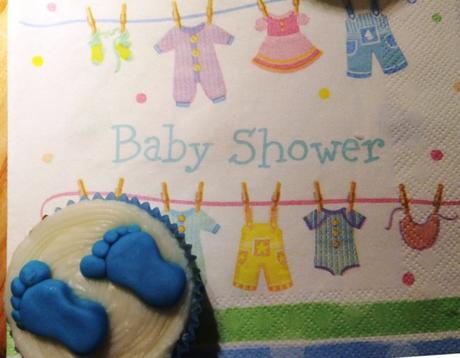 The only problem I have? That I can't pick a favourite! What do you think?