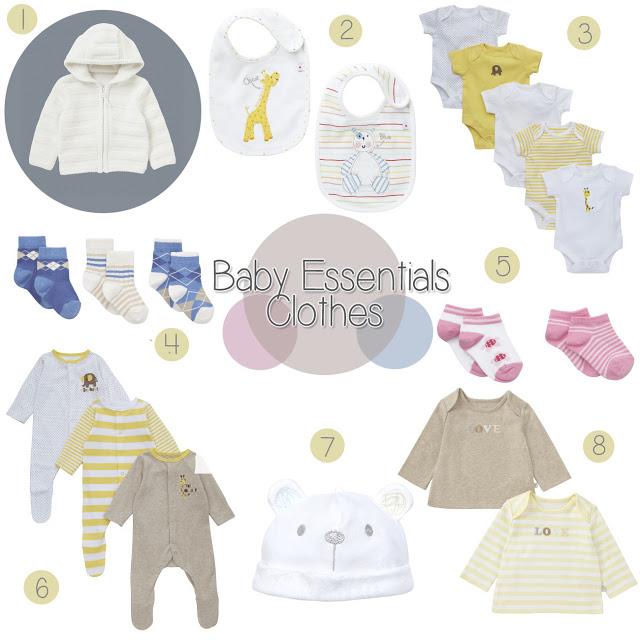 All images c/o mothercare.com
1. Cardigans
Snug little cardigans are a must, especially when baby is a newborn, they've been all nice and warm tucked inside your tummy for 9 cosy months, they'll love to be wrapped up and snuggled :)
2. Bibs!
Before every feed I would put Abbie in one, she usually threw up a little milk after every feed, saves you having to change their clothes too!
3. Vests
Get lots! Seriously, lots! Buy the whole shop if you can..no maybe that's a little dramatic..they will wear at least one every day, till they're about 1..under every outfit, it keeps their nappy supported and snug but also keeps them warm, I heard somewhere that babies should have on one extra layer than you, I guess it's these :)
4 & 5. Socks
Ok so they might not stay on their tiny toes for long and you might have to pick them off the floor a few hundred times..but babies lose heat from their feet (as do we), it's good to keep them covered and snug :)
6. Sleep suits!
Abbie has been wearing these every night since she was born, she knows that when she's in one, it's bedtime! Aside from warmth and comfort, they look super duper cute!! Bens Mum actually dressed him in them all the time as they looked so adorable!
6. Hats
An essential for the hospital bag too, babies lose a lot of heat from their heads so it's important to keep it warm!
7. Tshirts!
Stock up on these too..they'll get covered in milk, sick, dribble, snot..everything!
 Also an extra layer for those colder days :)