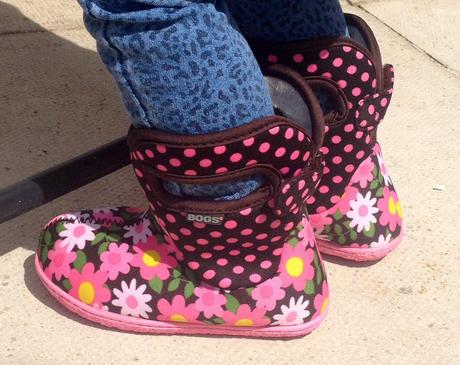 We all know that if you live in England, you have to be prepared for a lot of rain. Lately we have had a good run of sunshine but I know it won't be long before we are needing to enclose our toes again. Sienna was kindly sent some Baby Bogs from Bogs Footwear to review as they are supposedly 100% waterproof and are insulated so perfect for when that rain does hit.
The features that Baby Bogs offer are that they are:


-100% waterproof




-Made from 3mm Neo-Tech™ insulation with a plush cozy lining




-Machine washable




-Easy pull-on handles




-Comfort rated from temperate to 14°F

-Rubber sole so non-slip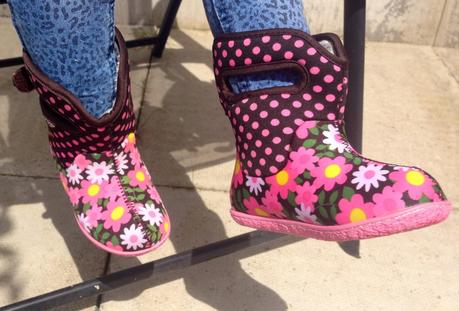 We were sent the Daisy Dots pattern and as you can see they look great. They are girly, bright and fun which we all know is perfect for Sienna. They are well made, the rubber sole is brilliant as it is non slip and gives some cushioning to Sienna's feet as well. They are comfortable for Sienna and lightweight so great if you do lots of walking with your little ones.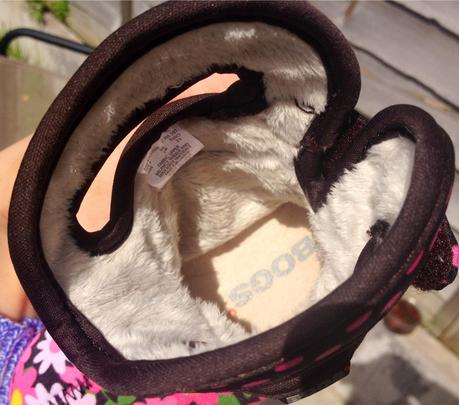 The waterproof membrane is great and does work however, Sienna loves to splash in puddles and as you can see, the top of the boots aren't tight to her leg meaning the splashes do get in, making her feet wet. If they were more of a wellington style and tighter around the leg they would be much more useful and definitely keep her feet dry. The lining inside is great for keeping her feet nice and warm which will be great for the winter.
The fact they are machine washable is also a bonus as it makes it easier for us mums! I do think the easy pull handles are very useful too either for mums putting the boots on younger babies or kids pulling them on themselves. I'm impressed with the concept of the material; the fact they are waterproof & washable, however I think this particular style needs a bit of work to solve the splashing issues!
Follow me: 

BlogLovin'

 // 

Twitter

 // 

Facebook

 // 

Google+

 // 

Pinterest

 // 

Instagram