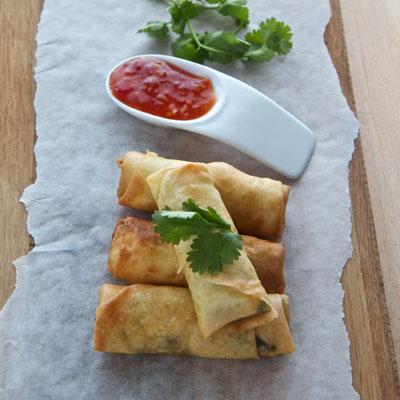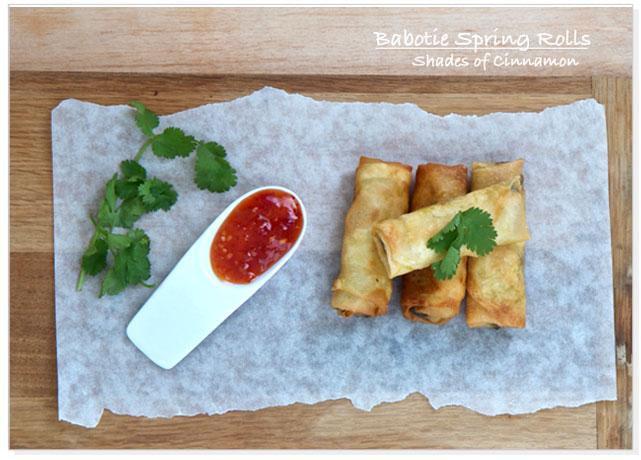 Africa is home to a multitude of different ethnic groups and cultures, and this diversity is reflected in the many culinary traditions,  in their preparation, and the cooking of food.These Bobotie Spring Rolls are a slightly different take on the traditional Cape Malay Bobotie, which came to South Africa in the 16th century, in the form of an Indonesian dish called "bobotok".  These recipes were carried by the Indonesians aboard Dutch East India Company's spice ships which also transported Malay slaves, who were brought to South Africa to work as artisans, fishermen, seamstresses, and cooks.  The Cape Malay community who live in the Western Cape of South Africa,  are of staunch Muslim faith, and they celebrate each and every occasion with tables groaning with dishes that suit the modest pocket, but are rich with flavours and spicy fragrances from their ancestral islands.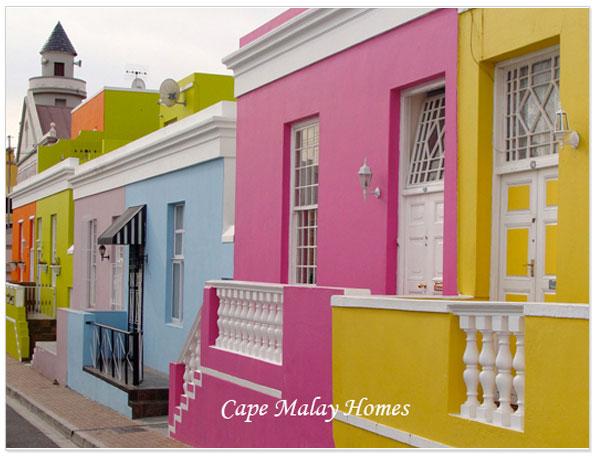 Recipes are handed down from generation to generation in the Cape Malay community, and most of their dishes are cooked the same way as their forefathers did almost 300 years ago. The traditional bobotie is made from minced lamb or beef, combined with herbs and spices, curry powders and chili, and sweetened with dried fruit or chutney, giving the curry a sweet taste, and then finished with an egg topping.  It is traditionally served with a plain boiled rice flavoured and coloured with tumeric making it the well known "geelrys" (yellow rice).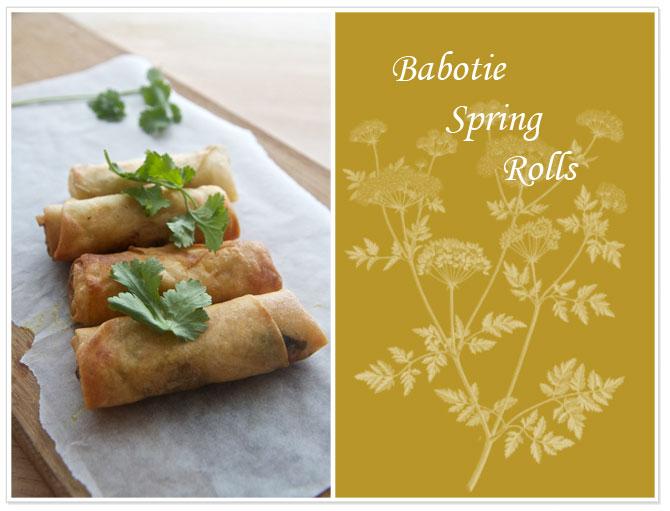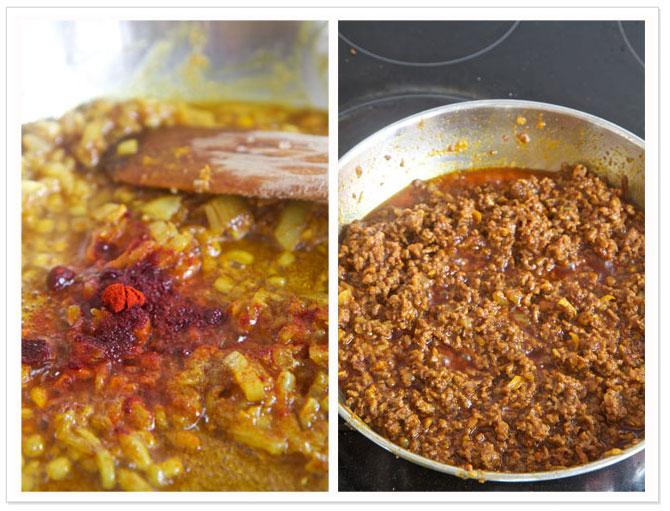 These Spring Rolls are made with a bobotie filling sweetened with chutney, and can be made a day or two ahead and stored in airtight containers, or frozen until needed.  If frozen be sure to defrost them in the fridge for about 2 or 3  hours before frying.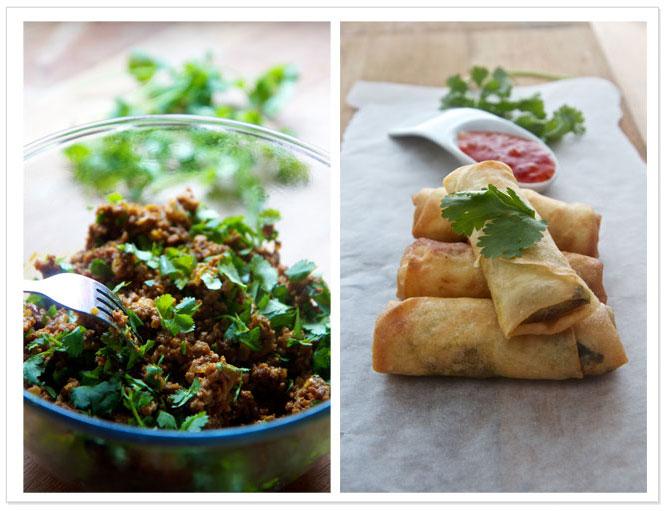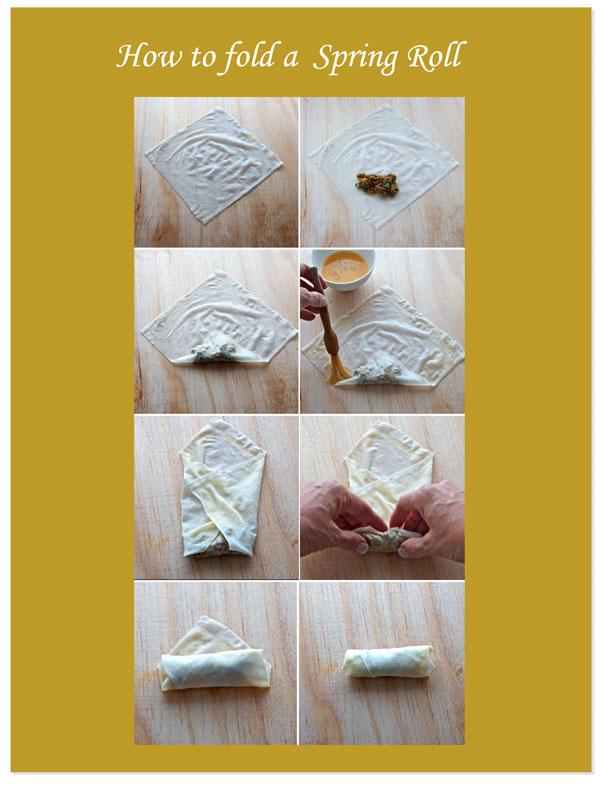 Recipe adapted from ile de pain cafe food by Liezie Mulder
Babotie Spring Rolls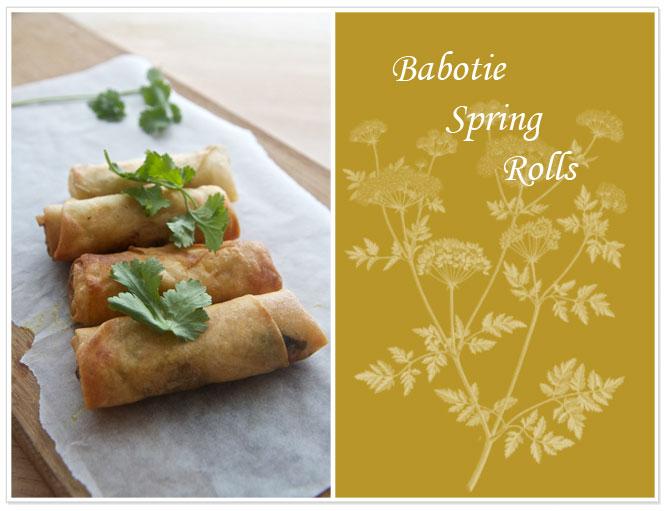 Author: Ev
Prep time:
45 mins
Cook time:
5 mins
Total time:
50 mins
Print
  Ingredients
2 chopped onions
2 Tbls garlic crushed
4 Tbls vegetable oil, plus extra for frying
2 Tbls grated ginger
2 Tbls brown sugar
1 Tbls curry powder
1 Tbls turmeric
1 Tbls garam Masala
1 Tls ground cumin
1 teaspoon finely chopped chili
1 kg beef mince
4 Tbls chutney
2 Tbls apricot jam
2 Tbls tomato paste
2 Tbls Worcestershire sauce
2 teaspoons salt
½ teaspoon black pepper
½ bunch chopped coriander(cilantro) chopped
1 eggs
1 Tblsp water
1 Packet Spring roll wrappers
Instructions
Chop onions and crush garlic and cook in the oil until soft.
Add ginger, brownsugar, curry powder, turmeric, garam masala, cumin, and chili.
Cook for a few minutes
Stir in the mince and cook for 10 – 15 minutes.
Add chutney, apricot jam, tomato paste, salt and Worcestershire sauce.
Cover and cook for another 30 minutes on low heat.
Add pepper and coriander , then take off the heat.
This mixture must be chilled in the fridge before putting into the spring rolls or they will be soggy.
Mix the egg and water in a bowl for the egg wash.
Place a heaped tablespoon of mixture on the spring roll about 2cm from the edge. Follow the picture directions for folding the spring rolls.
At this stage the spring rolls can be frozen, if you want to keep some for later.
Freeze blind (one layer on a baking sheet) and once frozen they can be transferred to a airtight container.
If cooking immediately, brush the spring rolls with the egg mixture and fry in hot oil until golden and crispy.
Delicious served with sweet chili sauce or salsa.
3.2.1753