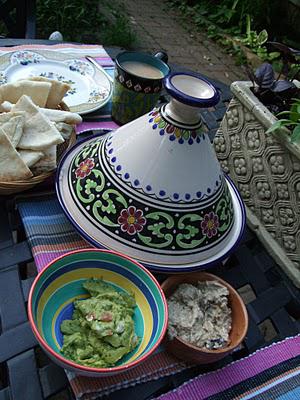 It's hard to take a good picture of baba ghanouj.
That's it on the bottom right. Photo copyright Hazel Smith.

Baba ghanouj is a Middle eastern eggplant spread. I love it. I like the smoky creaminess of it all. I also relish in the fact that it looks kind of disgusting. I have a penchant for eggplants. I buy them occasionally because they're so beautiful. I love that shiny, intense purple; the dolphin-like smoothness of them and the thunk you get when you tap them. Like lilac, violet and grape, eggplant purple has its own colour in the paint store - Aubergine. I bought myself a Murano glass eggplant so I'd stop wasting them.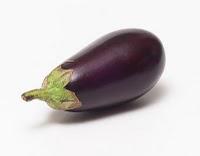 thedailygreen.com

Before my beautiful eggplant goes to waste I end up making some of the dip. But usually I don't  make baba ghanouj from scratch. There's a Toronto brand I really like from Sunflower Kitchen. It can be found in health food stores around Ontario and it contains only eggplants, tahini, filtered water, sunflower oil, garlic citric acid and sea salt.
By mistake I bought a tub of store-brand baba ghanouj from my grocer and the stuff was execrable. Not only did it contain sour cream, mayonnaise, and "mayonnaise-like" dressing but it was obviously seasoned with artificial smoke. Yuck. What's so hard about making it the right way?
Here's a recipe I use when I do make baba ghanouj from scratch.
2 medium eggplants halved
Juice of one lemon
2 garlic cloves crushed
3 tablespoons tahini
1/2 tsp ground cumin
salt, pepper
-Prick the skins of the halved eggplants with a fork.
-Rub the exposed sides with salt.
-Place them on a baking sheet and bake them for about 45 minutes at 400oF. The skins should be blistered and the flesh soft. Remove from oven.
-Plunge into cold water and remove. This helps with the peepling.
-Peel the eggplants, this is messy and because of all the seeds, it's kind of like skinning an octopus.
-Chop up the eggplant flesh and place the eggplant and all the other ingredients except the salt and pepper into a food processor and blend into a smooth puree. I use a hand-held immersion blender.
-Then add salt and pepper to taste and stir up.
-Pour the baba ghanouj into a bowl and garnish if you like with parsley or olives. 
Pita is the best accompaniment for baba ghanouj although sometimes I toss it with some pasta.
A restaurant that serves baba ghanouj just the way I like it, is the slightly down-at-heel  Momo's at 196 Robert Street at the corner of Harbord. Just to the west of the University district, Momo's is a pretty, authentic Middle-Eastern restaurant.  I gets prettier all the time and has developed a splendid patio. In the summer you can sit under their own grapes.  I've been going there for years. They have great Turkish coffee.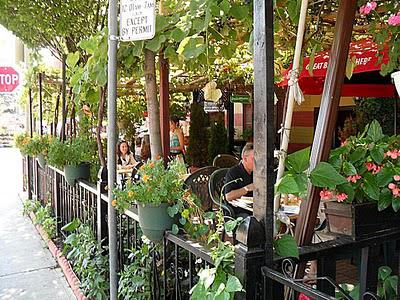 Momo's 196 Robert St. Toronto. weblocal.ca

Sunflower Kitchen also has really good hummus and an extra spicy Zesto-Pesto made with coriander. Have I told you how much I love coriander?...