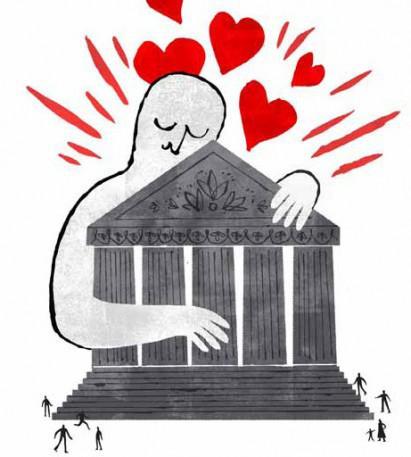 Following the financial meltdown and bank bailouts, two B Corps are showing that it's OK to love a bank.
Sunrise Community Banks, which operates three banks in St. Paul, Minn., is one of only 62 certified Community Development Financial Institution banks in the nation. The family- owned company, which is devoted to serving economically distressed neighborhoods, has 150 employees. It serves about 20,000 customers with total assets of $609 million.
In addition to traditional banking services for individuals and small businesses, Sunrise offers a socially responsible deposit fund. "We tell people, 'If you check this box, your dollars are going to be used for affordable housing development, nonprofit lending, small business and community facilities like churches and daycare centers,'" says Chief Corporate Responsibility Officer Nikki Foster. About 90 percent of deposit dollars are in that fund.
A recent initiative demonstrates the bank's dedication to serving the special needs of the Twin Cities most vulnerable communities.
During the last two decades, many Somalis fleeing civil war settled in the Twin Cities. The only way for the large refugee community to send money home was through money service businesses, which operate through cooperation with a bank. After the attacks of Sept. 11, 2001, the banks saw a host of increased regulations when sending funds to countries deemed hot spots for possible terrorism. Traditional banks fled, and the money service businesses all but disappeared.
Knowing that the service meant survival for Somali families, Sunrise stepped in, setting up a much- needed money service business that complies with stringent homeland security regulations. The partnership has been so successful that the bank recently opened a micro-branch in the heart of the Somali community.
In California, New Resource Bank fulfills its mission of community service with equal passion. "We are a bank with a mission to promote sustainable living," said President and CEO Vincent Siciliano.
Though small—one branch, 32 employees and total assets of $158 million—New Resource goes after its mission in big ways. Any bank can get its offices LEED certified (NRB's has a Gold rating), but NRB goes further.
The bank was the first to offer home loans for solar energy retrofits, which are distinct from traditional home improvement loans since the money is earmarked for the sole purpose of a residential solar energy upgrade. NRB also offers a Solar CD, an investment product that allows people to put their money into the solar power industry.
New Resource has provided loans to a range of exemplary sustainable businesses, such as packaging company Ecological Brands, organic dairy Straus Family Creamery and streetlight retrofitting company Tanko Streetlighting Services. "New Resource Bank only makes loans to sustainable businesses," Siciliano says. "They can be anywhere on the sustainability spectrum, they can be learners or leaders, but what is important is that they are on that playing field."
Both banks say being a Certified B Corporation is important for them and their customers. According to Siciliano, "As a B Corporation, New Resource Bank is able to separate itself as a sustainable leader in our industry and to set an example in our community."
Foster says the B Lab evaluation process has helped Sunrise push itself to better serve its community. For example, being asked to quantify purchasing dollars that go to local businesses allowed the bank to go a step further and write policies to cement such habits. As she says, "It is a constant reminder of practices we can do to show our dedication to the community."