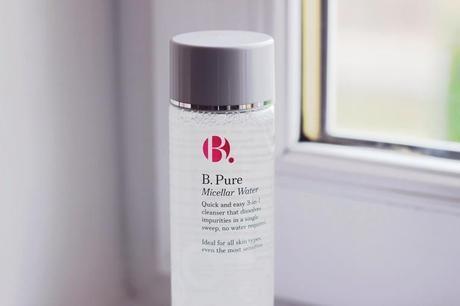 B. Pure Micellar Water, £3.99 (introductory price)
Over the past couple of weeks I have seen myself inching closer and closer to making a Bioderma order through eBay as I've really been lusting over the micellar water cleanser lately. At least this was until I read about this new release the other day which has just become available in most Superdrug stores. Superdrug has just launched its brand new range called B. which offers plenty of premium products that cover skincare, makeup and nails, while still being affordable for all us budget buyers out there. This 150ml bottle of B. Pure Micellar Water is intended to cleanse, tone and refresh your face whether you are removing makeup or just looking for a quick pick-me-up for the skin, with the product being described as a 3-in-1 'super' water. 
Although I've only used this product a handful of times so far, I wanted to get this post up as soon as I could to let you all know about the product. I have to say that I've really enjoyed using this micellar water so far and can't believe how easy it is to remove my makeup. It really is such a simple way to remove your makeup as you just need to add a little bit of the water to a cotton pad and wipe the makeup away. The directions on the bottle do say to avoid direct contact with the eyes but I found the micellar water to be great for removing my eye makeup with a quick swipe of the cotton pad over closed eyes (what a rebel I am). The product is aimed at being suitable for all skin types and its very slight fragrance just screams fresh to me so sensitive skin can let out a big sigh of relief due to the gentle formula. I'd even go as far to say that this cleanser has been helping the condition of my skin over the past few days as illness certainly brought along dry and tired skin.
All in all I'm very impressed with this product and am so glad that I've finally dipped my toe into the world of micellar water. Granted I can't compare this product with micellar water solutions from the likes of Bioderma, Avene or Vichy, I would still recommend the B. Pure Micellar Water to anyone who is looking for an easy and effective cleanser, especially for those nights when a Cleanse & Polish is just too much effort. The Micellar Water is currently available for the introductory price of £3.99 in selected Superdrug stores, with it going up to £4.99 from the 13th of February.