By Olivia Muiru, B Lab
The past two years have seen a growing awareness in impact investing in Africa, an interest B Lab sees through our work in GIIRS.  About 30% of our pioneer funds invest exclusively in Africa. This awareness of investment opportunities in Africa has been spurred by increased political and economic stability, a renewed entrepreneurial spirit, and changes in policies in the region.  It is really exciting that many of the GIIRS rated African entrepreneurs have started to ask about becoming a Certified B Corporation and joining the global movement to solve society's greatest challenges through business.
Policy change has gained significant momentum encouraging the formation of social enterprises: for example Regulation 28 in South Africa requires pension funds to invest in socially responsible investments (SRI); most countries in Sub-Saharan Africa (SSA) have developed a regulatory framework for Microfinance Institutions. Microfinance has become an important sector in Africa and an example of the power of social businesses in solving social problems. MFIs mainly provide access to financial services like micro-credit, savings, and insurance to the unbanked population- about 88% in SSA. There has been increased regulation and investment over the last few years in the sector given the critical role it plays in aiding poverty alleviation. It is therefore only fitting that our first African B Corp is a Microfinance Institution in Kenya.
Juhudi Kilimo was founded in 2004 as a nonprofit by the K-Rep Development Agency. The corporation made the conversion to a for-profit organisation in 2009 in an effort to be "more effective, creative, and larger". Since then, they have made significant strides growing their portfolio to about $2 million, serving 11,000 clients in four of the eight provinces in Kenya. The company is funded by Grameen and the Ford Foundation and their success has attracted a lot of attention from players in the impact investing space including Rockefeller Foundation, Acumen Fund, and Grassroots Business Fund.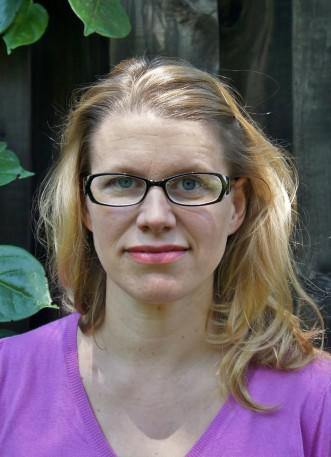 B Lab sat with Rachel Brooks, Director for Marketing and Social Performance, to discuss more about this amazing company and the importance of GIIRS and  B Corp.
What makes you different from other MFIs in Kenya?
Juhudi was created to specifically serve the needs of rural smallholder farmers whereas most MFIs in Kenya focus on urban clients. We finance productive agricultural assets to increase income levels and foster the development of farmer groups to provide a forum for training, leadership, and business development and build self-supporting communities.
We have also started using IT to expand our reach to the most rural communities.  In some of the regions it takes loan officers about 2 hours to reach a client which has a high operational cost. To bring down cost without affecting outreach, we have equipped all our loan officers with low-cost smart phones to collect client data, view client-level loan information, calculate repayments, geo-tag farm groups, and essentially operate as virtual satellite offices.
What did you learn about your organisation going through the GIIRS rating process and eventually becoming a Certified B Corp? 
The GIIRS process was broader and more comprehensive than previous social performance evaluations we have participated in. Through the process, we saw how we could continue to improve our social orientation and achieve our objectives through every aspect of our business.
Why did you choose to become a B Corporation?
We have a common goal with B Corp. We want to share how social businesses are addressing major challenges and serving clients. The B Corp certification lets us tell a little of our story, be compared to other social businesses, and benefit from access to services that are normally only available to non-profits.
Why do B Corps matter in the African context?
There is a fast growing social business sector emerging in Africa. The B Corp certification can highlight these inclusive business models to attract more support and resources. Africa receives tremendous aid, but there is an equally important role for African businesses that are providing innovative market-based solutions to address these same challenges across the continent.
 Learn more about our first African B Corp and Better Know Juhudi Kilimo.