If I could identify two skills that I possess in equal strength, they would be 1. sniffing out a bargain and 2. losing and/or damaging sunglasses.
Well talk about killing the proverbial bird with a single stone …. these 4 pairs of sunnies cost me $20 from here.
Yes m'am your maths is right, $5 per pair!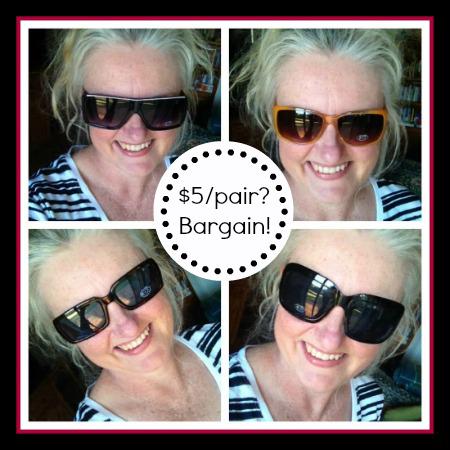 I actually used to own a pair of Ray-bans …….. and once upon a time also used to own a pair of Oroton …….. and a while ago I had a pair of Gucci glasses too. Very expensive to buy but oh, so very easy to scratch, drop, lose, sit on, stand on and end up without. Never again. Well at least not until I'm a grown up

4 different looks, 4 different opportunities to lose or damage and only 4 purple notes. I am a happy bargain hunter!
Do you have a good track record with sunglasses? If so, how do you do it? Please?