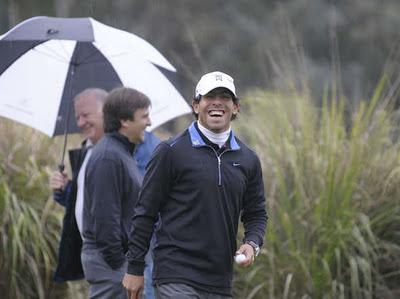 I should declare that I am a Manchester City supporter.
So hear we have a recent picture of a joyous Carlos Tevez playing golf back home in Argentina. When he should be making up with Mancini and his team mates back in sunny Manchester. Training and getting fit for important games in the Premiership and Champions League.

But this picture also got me thinking about the strong links between football (soccer) and golf. You only have to watch 'Match of the Day' a BBC programme which screens highlights of weekend matches, hosted by Gary Lineker, Alan Hansen and Lee Dixon. All ex-footballers and all single digit handicap golfers.

Why do so many footballers play golf? Is it because they have time on their hands during the week, before and after training? Or is it because they earn so much money and can afford to play at the most exclusive golf & country clubs in the shires?

Are there any physical and or mental similarities with kicking a football and striking a golf ball?

I guess balance is integral to playing most sports.
-------------------------------------------------