Just a quick post about new website where I found really cool T-shirts.  Have you guys heard of ClothingLoves?  
It is a fairly new wholesale clothing store that sells all the most popular designer clothes and accessories from Korea, Japan, China, and other parts of Asia.
 I know that clothes on some of the websites are pretty expensive.  I was searching for clothes that look decent AND that I can afford.
So I was happy when I found this website.  I was particularly looking for shirts, or tank tops to wear underneath cardigan or jacket.
I liked these tops a lot and I think I'm going to be getting one (or more) soon :)  The links are below the pictures.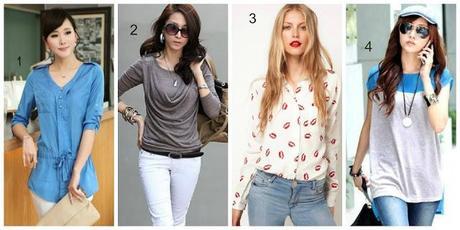 1.  
Blue Korean Fashion V-Neck New Summer Women One Size Chiffon Shirt
2.  

Grey Korean Style Fashion Lady Cotton Round Neck Sequined Shoulder Long Sleeves One Size Casual T-Shirt 
3.  
White Retro Long-Sleeved Red Lips Printed Casual Chiffon Women Shirt
4.  
Blue Spliced On Sale Round Neck Women Loose One Size Fashion Shirt 
They also have dresses for special occasions, jewelry and men's clothing for a very reasonable price.
Thanks for reading and Happy Wednesday!
K.H.