With Autumn now here and winter not too far away, the season for changing up your wardrobe is upon us! I love this time of the year, wrapping up in snug oversized jumpers and warm ugg boots! Bliss! I'm not really a fan of hot weather (I know I know, what!!?) I much prefer to be cosied up inside with my pjs, onesie or joggers with some feel good movies and a warming dinner...ahhh! :) But of course not every day, that would be lazy ;)...I've come up with a list of clothing to keep you warm this autumn/winter whilst still keeping up with the latest trends!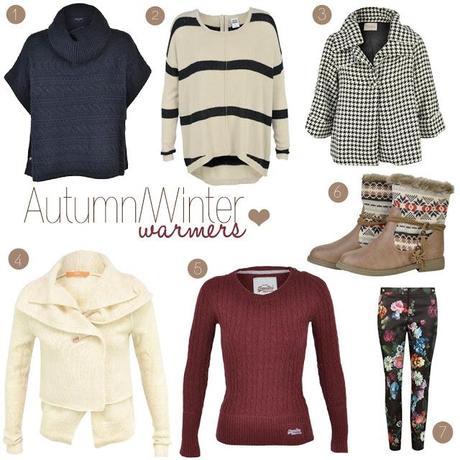 1 / 2 / 3 / 4 / 5 / 6 / 7
Boots
Now I'm going to sound like a mother..but these are so important, yes you want to look nice but try not to get sucked into the look too much, I know from past experience having the bottoms of my fleecy tan Uggs falling apart by the end of winter..plenty of soggy socks, cold feet & 'Oh they'll be fine'..Be practical and smart with your decision, even spending a bit more money for boots that'll last more than one season is fine to do! The gorgeous boots I've included above are wipe clean with a thick heel and sole, whilst being sturdy and still bang on trend with the pretty wintery pattern!
Oversized jumpers
My number one necessity! I have a wardrobe full of them, they are perfect for going out & also for having lazy snuggle days on the sofa, ahhh :). The one above is from Vero Moda, it is exactly what I go for in jumpers so have actually just added it to my Christmas list! Eek! Just team it with a pair of skinny jeans, some ankle boots and tra-la, looking like you've made an effort when in actual fact it took you 5 minutes! :). They are also perfect for the summer evenings too, when the sun starts to set and you cam that refreshing breeze, throw this on and it's like the sun never left!
Coats
There are literally thousands of coats on the market nowadays, short lengths, long, duffle, parka, sharktooth, you name it, it's out there! I tend to always go for coats with big collars, you can do the zip all the way up and still add your scarf or snood to keep your neck and ears warm! As coats are actually made for the outside you can concentrate more on finding one you like the look of rather than being suitable for the weather, because they're made to be practical! So enjoy shopping for this & a little tip from me is to always feel the lining, to ensure it will keep you warm and also to buy one size bigger than what you are as you will be layering underneath to keep warm!
I think Autumn & Winter gives us all the opportunity to be more casual and comfortable, especially when it comes to staying in, just throw on your comfiest jeans, your oversized jumper & your slippers, put the kettle on and have a nice hot chocolate and watch some telly! (once the kids are in bed of course) :)
What are your winter essentials?