Hellossss womaniyas,
I hope everyone is doing good and are enjoying the festivities. My today's review is a metallic liquid eyeliner from Avon which I did purchase a while back called Electric Blue from their Simply Pretty line.Let us find out in the review how good it is....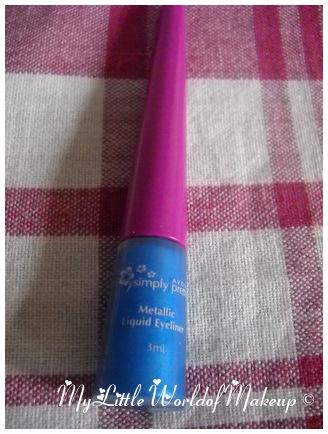 Ingredients: nothing mentioned.
Price: Rs.  229/-    for 3ml. (best purchased when there is a discount offer)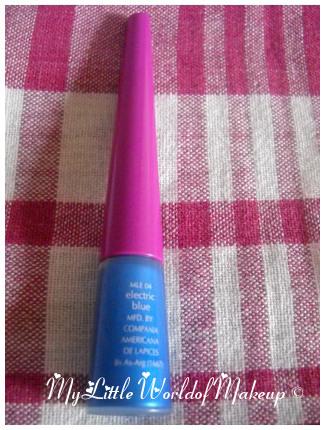 Avon is one of my favorite brands in make up simply because of its affordability. Their products are decently good. However some may be a hit or a miss. In one of my Avon hauls I 
di
d a 
long time ago I saw a couple of these new eyeliners and the introductory price really made me and my office colleague buy them. This shade is not available now, they have only 2 shades Sky Blue and Green Leaf at present. I and my office colleague  thought that it would be like  navy or royal blue and it turned out to be something else.. Lol... My friend was a 
dusky beauty
 and you can imagine if she wears this shade, it woul
d have 
 not suit her a bit. But she was smart enough and tried it on top of a normal black eyeliner and it looked decently OK. The packaging is a clear small bottle with a pink wand. The eyeliner does contain a metallic ball inside and does make a sound when you shake the bottle which I love. The tip is amazing - not too stiff  not too soft which helps in applying the eyeliner with ease. However since the applicator is short you may have to dip in more than once to apply the eye liner.  It does not leak from the bottle hence it is travel friendly.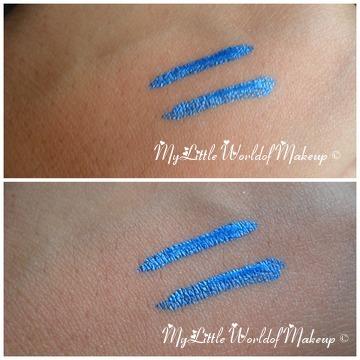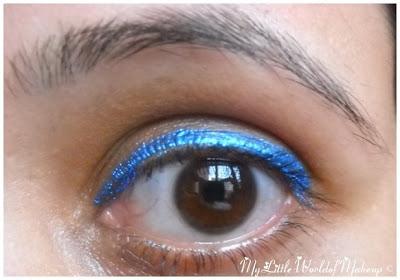 Coming to the color it is true teal electric blue color. It claims to be metallic which it is. It does not have any chunky glitter.The eyeliner glides on easily due to its formula and the  felt tip makes  the process of applying eye liner a piece of cake. After application you need to wait for it to dry. Once dried it looks amazingly metallic. Now its not waterproof, so you need to be careful. After a couple of hours it may flake off a bit. If you touch or rub your eyes it may smudge and wear off. It does
 last a decent amount of time though. It comes off easily with any make up remover. The only thing about this eyeliner is that I am not a big fan of the shade, although I can wear it depending on my mood. This eyeliner is definitely not for the mature women.
The Good:
Nice sleek packaging.
Lovely felt tip liner.
Nice metallic finish.
Goes on smooth.
Travel friendly.
The not so Good:
Pricey for the quantity.
Shade may not appeal or suit all.
Ingredient list not mentioned.
Not waterproof.

Rating: 3.2/5
Although the shade is not my choice of color  I would still say it is decent enough to try if you like these kin
d of sha
des
. Those in colleges and those fond of teal shades or bright colors can give these a try but only when they are on SALE.
I hope my review made sense and was helpful to you.Do comment below I love reading your inputs.
Thank you for taking the time to read this.
Regards,
Natasha(Nats) <3